Trump bodyguard Keith Schiller says Russian offered to have women sent to Trump's Moscow hotel room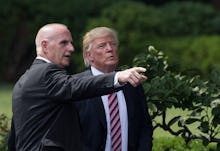 A Russian offered to "send five women" to Donald Trump's Moscow hotel room before the Miss Universe Pageant in 2013, the president's longtime bodyguard Keith Schiller reportedly told Congress this week.
According to NBC News, Schiller said Trump was offered the women after a morning meeting on the upcoming pageant, which he ran from 1996 to 2015.
The offer was strongly declined, Schiller testified.
"We don't do that type of stuff," the body guard reportedly said.
A dossier put together by a former British spy and reported on in January alleged that the Kremlin had obtained a videotape of Trump in a Moscow hotel room with Russian sex workers performing a "golden shower" show on a bed once slept in by Barack Obama and Michelle Obama.
Schiller's testimony about Russia's offer in 2013 came "in the context of him adamantly disputing the allegations" in the dossier, according to NBC News.
Trump slammed the dossier as "A TOTAL POLITICAL WITCH HUNT" after its existence was made public in January, days before his inauguration.
Since it was revealed that raw intelligence was partially funded by the Hillary Clinton campaign, Trump has claimed himself a "victim" and said that the dossier has been "discredited."
But some elements of the dossier, including its general thesis that Russia interfered in the 2016 presidential election in support of Trump, align with the conclusions reached by the United States intelligence community.
Its most salacious claim — that Russians have "compromising material" on Trump — has not yet been publicly proven, however.
In his testimony before the House Intelligence Committee, Schiller said that he and Trump "laughed" about the Russian's offer on the way back to the mogul's hotel room, according to NBC News. Schiller stood outside Trump's hotel room for some time, the body guard reportedly testified, before leaving and going to bed himself.
While a source familiar with the testimony said that Schiller stated he "could not say for sure what happened" after he left Trump's hotel room for the night, he seemed confident that nothing happened, reportedly calling the dossier's "golden showers" claim "bullshit."
It is not clear who the Russian was who allegedly offered the five women to Trump, nor is it clear what the person's role in the meeting had been.
In a statement to NBC News, Schiller's lawyer condemned the "leaks" of the body guard's testimony, saying the sources were "defaming" him and should be held accountable.