Jelani Maraj, Nicki Minaj's brother, found guilty in child rape trial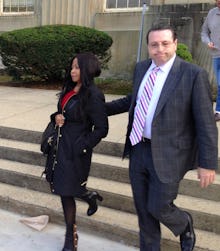 Jelani Maraj — the brother of rapper Nicki Minaj — was found guilty of felony sexual assault on a child by a Long Island jury on Thursday, according to reports.
The verdict came at the end of a monthlong trial, during which Maraj, 38, stood accused of repeatedly raping his 11-year-old stepdaughter between April and November of 2015 while her mother was away at work.
Despite attempts by the defense to prove that the charges had been brought in an attempt to extort millions from Maraj's wealthy sister, State Supreme Court Justice Robert McDonald ordered on Thursday that he be held without bail in Nassau County jail in East Meadow, New York. According to the report, Maraj showed no emotion as the verdict was read.
The high-profile trial had garnered national attention, with Minaj claiming that she would take the stand in her brother's defense (she never did).
The victim's 10-year-old brother, however, did testify, telling jurors that he had seen Maraj's "private parts" after walking into a basement bedroom in 2015. He said that Maraj later confronted him, slapping him across the face multiple times after the boy admitted to having seen anything.
According to TMZ, Maraj will be sentenced on Dec. 14, and currently faces 25 years to life in prison. According to the site, Nassau County D.A. Madeline Singas said she hopes "that today's verdict will help the family in the healing process."