Cooks and food bloggers share their internationally inspired Thanksgiving traditions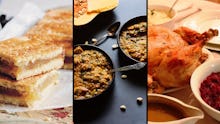 Holiday celebrations are a good excuse to load up the dinner table with a festive feast. Many Americans spend the days leading up to Thanksgiving preparing all sorts of dishes like cranberry sauce, stuffing, green beans, pumpkin pie and of course, turkey.
We asked some of our favorite food bloggers to share their tried-and-true Thanksgiving recipes that veer from the traditional. These turkey day staples take inspiration from global cultures and family history — from a Guyanese saltfish cake appetizer to a Croatian apple dessert — and they might make your own Thanksgiving meal even more memorable.
"When [my family] started celebrating Thanksgiving, recipes from [my mother's] native Caribbean kitchen inherently found a place on our table," Alica Ramkirpal-Senhouse said in an email.
The whole family helps out on Thanksgiving to create a dinner "that's a fusion of flavor," Ramkirpal-Senhouse said. One of her favorite recipes is these saltfish appetizers, which she pairs with a Guyanese mango sour. Crispy on the outside, moist and flavorful on the inside — these fish cakes are guaranteed to hit all the right texture notes.
Saltfish is a dried fish that needs to be deboned. If you want to speed up the process, you can use cod instead, Ramkirpal-Senhouse said. Other ingredients include potatoes, egg, scallion, garlic and plenty of flavorful herbs.
Get the recipe here.
Nigerian Pumpkin Soup from Yummy Medley
Pumpkins, peanuts, braised meat, spinach and more come together in miyan taushe, a warming soup. It's popular with the Hausa and Fulani tribes of the Northern Nigeria, Lois Oviawe wrote on her blog, Yummy Medley. She made it with goat meat but said that home cooks can use beef, mutton or other proteins.
"I am from the southern part of Nigeria and this is a northern, dish, but when I lived in Nigeria,  my mother always bought produce from northerners [and learned the recipe from them,]" Oviawe wrote in an email.
The stew is commonly served with swallow (an African-style dumpling), rice or naan bread. Oviawe added that the dish is often served during Ramadan.
Get the recipe here.
Mely Martinez of Mexico In My Kitchen bakes this impressive boneless turkey every year on Thanksgiving. Her husband, who has roots in the south of Mexico, typically takes all the bones out of the turkey and fills the bird with an aromatic meat mixture that includes raisins, almonds, ground beef and pork. It's called "Pavo a la Galantina," or Galantine turkey, and the dish hails from the southern Mexican states of Tabasco, Yucatan and Quintana Roo.
"It is also sold as a cold meat throughout the year to make sandwiches or to serve as hors-d'oeuvres," Martinez wrote on her blog.
Get the recipe here.
Warm Brussels Sprouts Slaw from Nom Nom Paleo
"Growing up in a Chinese-American household, I never had a traditional Thanksgiving dinner," Michelle Tam, the blogger behind Nom Nom Paleo, wrote on her blog. Each year, Tam said her mother "would whip up a special East-Meets-West feast."
Once Tam decided to follow a Paleo diet, she decided to bring this festive slaw to her in-law's big Thanksgiving potluck, she said in an email. "The Asian flavors make it a big hit every year," she said.
This citrus-flavored slaw takes inspiration from Tam's mom. Shredded sprouts get roasted and then tossed in a dressing that has garlic, ginger, soy sauce, fish sauce and sesame oil. It's an fresh twist on a traditional Thanksgiving side, and it will add a "zesty zing" to your festivities.
Get the recipe here.
Even though goat meat stew is a traditional Christmas dish, Nma Jewel, the blogger behind Nigerian Lazy Chef, likes to incorporate it into her Thanksgiving meal, she said in an email.
In her kitchen growing up in Nigeria, Jewel crushed the ingredients — like tomatoes, garlic, onion and beans — by hand with a mortar and pestle. And the cooking process took an entire day. (The recipe posted on the blog makes it a much easier and more efficient process.)
"It reminds me of holidays spent in my father's country home in Nigeria," Jewel said. "Fun memories of eating this stew with my cousins in a tray loaded with rice will always be etched in my memory."
Get the recipe here.
Croatian Apple Cake from The Taste SF
Croatians don't celebrate Thanksgiving, but this layered apple dessert is a delicious alternative to apple pie. The recipe originally comes from Dalmatia: Recipes from Croatia's Mediterranean Coast and was shared with Taste SF by cookbook author Ino Kuvacic.
Surrounded by dense and flaky cake, the apple filling consists of grated granny smith apples, superfine sugar, a bit of rum, lemon juice and cinnamon. Kuvacic suggests serving squares of the cake with caramel sauce and vanilla ice cream.
"This is a classic Croatian cake (or kolá as we say) and can be prepared for any occasion," Kuvacic writes in the cookbook.
Get the recipe here.