Report: Mueller interviews Stephen Miller in Russia investigation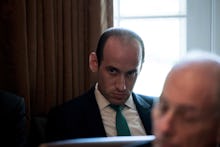 Stephen Miller — a top aide to President Donald Trump — has been interviewed by special counsel Robert Mueller's investigators as part of his intensifying probe into Russia's 2016 election interference, CNN reported Thursday.
Miller, an architect behind much of Trump's "America First" agenda, was reportedly quizzed on the firing of former FBI director James Comey and a March 2016 campaign meeting he attended in which foreign policy adviser George Papadopoulos proposed a meeting between Trump and Russian President Vladimir Putin, among other topics.
Papadopoulos pleaded guilty to a charge of lying to the FBI about his Russia contacts, Mueller's office revealed last week. The special counsel also indicted former Trump campaign chairman Paul Manafort and his associate, Rick Gates, the same day.
Manafort and Gates pleaded not guilty to 12 charges, including conspiracy against the United States.
Mueller probe gets closer to Trump
Mueller's meeting with Miller brings the intensifying Russia investigation even closer to Trump, who has maintained that the whole thing is a "witch hunt" concocted by Democrats to explain losing the election in 2016.
As CNN notes, Miller is the highest-ranking Trump official still working in the White House known to have been interviewed by Mueller.
The special counsel has already interviewed former chief of staff Reince Priebus and is seeking meetings with other top level White House staff, including the president's communications director, Hope Hicks.
The interview with Miller is significant as he may be able to shed light on Papadopoulos, whose attempts to broker a meeting between the campaign and the Kremlin have become a focal point of the collusion investigation. Miller was among those present in March 2016 when the former foreign policy adviser talked about his Russia connections.
Miller — who reportedly played a role in Trump's axing of Comey — could also be an important figure in Mueller's examination of possible obstruction of justice on the part of the president.