McDonald's, Ben & Jerry's and 63 other food companies receive top scores for LGBTQ inclusivity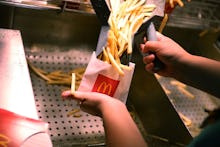 The next time you pick up some McNuggets or all-day breakfast at McDonald's, know you're supporting one of the country's most LGTBQ-inclusive workplaces.
That's according to the Human Rights Campaign's 2018 Corporate Equality Index released Thursday, which graded major American companies on their policies relating to LGTBQ employees.
McDonald's, along with 64 other food, beverage and grocery companies, earned a perfect score based on nondiscrimination policies, benefits for LGTBQ workers and their families, internal education to promote LGTBQ inclusion and public commitment to LGTBQ equality.
Other companies receiving perfect scores include Anheuser-Busch, Ben & Jerry's, Campbell's, Coca-Cola, General Mills, Hershey, PepsiCo and Wawa.
Companies that scored lower than 80 included Chipotle, Cracker Barrel, Denny's, Dr Pepper, Wendy's and Whole Foods. These less-than-perfect scores were based in part on a business' failure to promote LGTBQ competency within its organization — not clearly stating nondiscrimination policies in new hire training, for example — and a failure to provide health care inclusive of transgender employees and same-sex partnerships.
However, the "number of employers offering transgender-inclusive health care coverage leapt from 647 last year to 750 this year, including 58% of the Fortune 500-ranked businesses," HRC President Chad Griffen wrote in the report.
Though the Trump administration may have created a hostile environment for LGTBQ Americans, it appears corporate America, including the food industry, is not following suit.
The commitment to inclusion seems to extend to advertising, too. LGTBQ representation in food commercials made waves in 2017: A Coca-Cola ad featuring a brother and sister lusting after the same pool boy was widely praised in June; several McDonald's locations in the San Francisco Bay Area and Washington, D.C., sold "pride fries" in rainbow boxes.
Since roughly 71% of LGTBQ consumers are more likely to support a brand if its advertising "reflects their experience," according to Logo, it's in a business' best interest to have more diverse advertising.
It helps to have inclusive policies, too, at least according to a Massachusetts Institute of Technology study that showed "gender diversity in the workplace helps firms be more productive."
Actively promoting inclusive workplaces will hopefully reduce the number of employees who feel the need to hide who they are at work. A 2014 HRC study revealed that 53% of LGBT workers "hide who they are for fear of discrimination in the workplace and in their communities," Deena Fidas, director of HRC's Workplace Equality Program, said.