The superstorm of problems facing the Senate GOP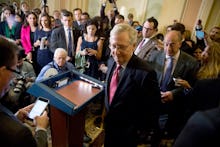 Welcome to Mic's daily read on Donald Trump's America. Want to receive this as a daily email in your inbox? Subscribe here.
Friday's dispatch: A superstorm hits the Senate GOP
Do you believe Roy Moore? Or his accusers? Welcome to Friday for the Senate GOP.
Allegations of molestation by Roy Moore against teenagers, detailed independently by four women and the result of reporting that included 30 total interviews, hit like a bombshell on Thursday afternoon. Moore vehemently denies the meticulously reported allegations.
The Washington Post story drew a nearly universal response from Senate Republicans to Moore: "If the allegations are true, he should withdraw." The problem? Unless other alleged victims come forward, it may be difficult to further prove Moore's denials wrong. And it does not appear Alabama GOP officials will try to remove Moore.
This sets up Senate Republicans with two disastrous outcomes. Moore stays in the race and is elected to the Senate on Dec. 12, or Democratic Senate candidate Doug Jones pulls out a historic upset of Moore — narrowing the thin GOP majority of two seats to one.
And that's far from the only challenge GOP senators are facing. Top Republicans have said failure to pass tax reform will mean donations stop flowing to Senate candidates.
But the bill proposed in the Senate is substantially different from the House, which will make it difficult for one chamber's bill to pass the other. Plus, Sen. Rand Paul (R-Ky.) is recovering after reportedly being attacked by his neighbor, meaning the GOP cannot afford more than one defection.
Outside of Washington, the forces that brought Moore victory in the Alabama Senate primary earlier this year are still at work. Steve Bannon is recruiting far-right candidates to run against incumbent Republicans across the country. His nominees have pathways to victory in Arizona and Nevada, with others considering runs in Mississippi and Wyoming.
Sen. Mitch McConnell (R-Ky.), the majority leader, has the second-lowest approval rating of any senator in the country. Congressional approval ratings are near the lowest in the last decade.
2017 should have been a banner year for Senate Republicans. Instead, they have so far failed to advance any of their key legislation. And what they have proposed is unpopular. Far more incumbent Democrats than Republicans are up for reelection to the Senate in 2018, but the GOP does not appear poised to capitalize.
The Moore allegations are only the latest in a string of nightmares for Senate Republicans. The kicker: Bannon told the New York Times he does not believe McConnell will be majority leader in a year.
Today's question: What message will it send if Roy Moore is still elected following these allegations?
Please email us at trumpsamerica@mic.com with your thoughts.
Friday in Trump's America:
GOP Senators dropped their tax plan on Thursday, a bill that may lose the support of many Republicans in the House. Cutting through the noise: Here are five key ways the Senate and House tax plans would affect your money. Speaking of tax cuts for the wealthy and big companies: 7 big numbers that show inequality in the U.S. is widening.
Senate trial: The trial of Senator Bob Menendez (D-N.J.) may result in a hung jury, sparing the senator a corruption conviction and the Democrats the potential loss of a Senate seat that could be replaced by GOP New Jersey Gov. Chris Christie before his Democratic successor comes into office.
Russia: Special counsel Robert Mueller has interviewed Stephen Miller, a top aide to Trump now and during the 2016 campaign.
Asia: Trump will not meet with Russian President Vladimir Putin as part of his Asia trip. The president held a press conference with the Chinese president where he did not take questions from journalists — caving to Chinese anti-media pressure.
DACA: Hundreds of DACA activists protested inside a U.S. Senate office building to demand Congress pass the Dream Act.
Social media: Twitter is reviewing how it verifies users after it verified an alt-right leader.
Sexual harassment: The Senate passed legislation requiring sexual harassment training in the wake of allegations of harassment by Capitol Hill staffers.
Guns: Gabby Giffords' gun-control group is suing the Trump administration for documents that it says would show the influence of the National Rifle Association over gun policy.
Climate change: A nominee for Trump's Council on Environmental Quality cannot say whether she believes the ocean has absorbed rising global temperatures driven by climate change.
Today's MicBite:
Chris Hurst, whose girlfriend was shot and killed on live TV, ran on a platform of preventing gun violence for the Virginia House of Delegates. He won Tuesday night. Tap or click the video below to watch.