With a glossy new campaign starring DJ Khaled, plus-size men's fashion gets an image overhaul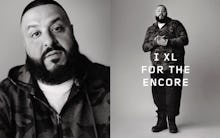 Plus-size men are still nearly invisible in the fashion industry. Not a single one walked down a runway during Fashion Month, and hardly any appear in ad campaigns. They remain on the brink of convincing the fashion industry that not only are they cool, but they're also worthy of very good fashion like everyone else.
But maybe that'll change sooner than we think. We say this after seeing big and tall retailer Destination XL's latest campaign, called Time to XL. The campaign stars five different men, and most notably a bonafide celebrity: DJ Khaled.
Alongside Khaled is model and body positive activist Kelvin Davis and the musician Sundance.
"This campaign is different because it's truly celebrating men that are XL in various body types," Davis said in an email to Mic. "This campaign is uplifting and truly shines a positive light on being a bigger guy. Men of all sizes deserve to feel great about themselves and that's what this campaign means to me. Doing this campaign felt different because it was an extension of the message I preach on my own social channels and platform. It truly meant a lot to be a part of it."
Also included in the campaign are athletes David Ortiz, who retired from the MLB, and Hal Gill, who played in the NHL.
Shot in dramatic black and white, if you didn't know it was from a big and tall retailer, it could easily pass as something from Michael Kors or Levi's or JackThreads.
"We want men of all sizes to feel empowered by looking good in what they wear," the campaign reads. "Time to XL is a celebration of impressive XL individuals; they XL in different ways, but they do it in style."
It's modern and sleek, with all the men looking undeniably stylish and fresh.
That's exactly the right thing to see for a division in fashion that still lags behind its female counterpart. While brands like Asos have gotten the note on why it's important to create truly cool plus-size men's fashion, practically everyone else hasn't.
What's also important here is the prevalence of faces that you might know, like Khaled's. As Mic has reported before, many people in the plus-size male modeling world have been waiting for more celebrities to get involved and represent the plus-size guy.
With DJ Khaled now involved, maybe we're headed toward a fashion future where seeing men like him in a glitzy fashion campaign isn't all that surprising.
"When you look at this cast of guys, you see diversity in size, race, clothing style and body type," Davis said. "This is the example of what men's fashion ads should be. We all deserve representation and DXL has brought that to life for the first time in menswear. I'm beyond humbled to be apart of this campaign."
Nov. 13, 2017, 11:47 a.m.: This post has been updated.