Lupita Nyong'o calls out British magazine for Photoshopping her hair without consent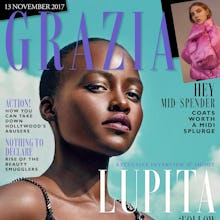 Don't edit a black woman's hair for a magazine cover and expect her to not speak out about it. That's what Solange taught us in October, when the "Don't Touch My Hair" singer called out Evening Standard magazine for editing her hair without her permission.
Now the exact same thing has happened to another famous black woman: Lupita Nyong'o.
On the cover of Grazia UK, Nyong'o is shot from the shoulders up, with her head looking as if it was shaved. But according to Nyong'o, the magazine edited her hair without her permission.
To prove it, Nyong'o shared images of the before-and-afters on social media, showing that the original image had her with her hair pulled back, and left curly at the ends.
"Disappointed that Grazia UK edited out & smoothed my hair to fit a more Eurocentric notion of what beautiful hair looks like," she wrote on Twitter.
Then on Instagram, she elaborated, and wrote about why she feels so strongly about pointing out this editing, and why it is offensive to her.
"With every fiber of my being, I embrace my natural heritage and despite having grown up thinking light skin and straight, silky hair were the standards of beauty, I now know that my dark skin and kinky, coily hair are beautiful too," Nyong'o wrote. "Being featured on the cover of a magazine fulfills me as it is an opportunity to show other dark, kinky-haired people, and particularly our children, that they are beautiful just the way they are."
And by Grazia editing her hair to look smoother and silkier, they are ruining this opportunity to show a different definition of black beauty.
"I am disappointed that Grazia UK invited me to be on their cover and then edited out and smoothed my hair to fit their notion of what beautiful hair looks like," Nyong'o concluded. "Had I been consulted, I would have explained that I cannot support or condone the omission of what is my native heritage with the intention that they appreciate that there is still a very long way to go to combat the unconscious prejudice against black women's complexion, hair style and texture."
Plenty of readers have been offended too, writing comments on the magazine's Facebook like "It is pathetic and disgusting that you would ask Lupita to be on your cover only to edit out parts of the picture that defines who she is as a black woman," and, "You should be ashamed."
On Friday morning, Grazia UK finally responded, apologizing to Nyong'o but also putting the blame on the photographer, not the magazine's editors.
"Grazia is committed to representing diversity throughout its pages and apologizes unreservedly to Lupita Nyong'o," the statement read.
"Grazia magazine would like to make it clear that at no point did they make any editorial request to the photographer for Lupita Nyong'o's hair to be altered on this week's cover, nor did we alter it ourselves," Grazia wrote on. "But we apologize unreservedly for not upholding the highest of editorial standards in ensuring that we were aware of all alterations that had been made."
Mic has reached out to Grazia UK.