What Melania Trump wore her 42nd week as first lady — in Japan, China and more on her Asia trip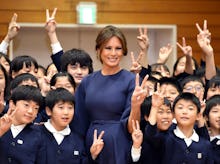 As we predicted, we got a whole lot of Melania Trump this week, thanks to her tagging along with her husband on an 12-day trip to Asia.
Frankly, this trip helped us learn a lot about how Trump is using fashion as first lady. While Michelle Obama made a habit of wearing designers from the countries she was visiting abroad — like when she wore Kenzo on a trip to Japan in May 2015 — Trump hasn't really embraced that approach in Asia, opting to wear her favorite designers instead of exploring what Asian designers have to offer.
She has a style and she's sticking to it, apparently.
This is what Melania Trump wore this week.
Friday, Nov. 3: A white Dior dress for arriving in Hawaii
For a quick touchdown in Hawaii before their jaunt to Asia, Trump kept things easy, donning a breezy white dress from Dior and wrapping a leather belt around her waist.
Saturday, Nov. 4: A tropical dress for leaving Hawaii
Trump was seen in a brand-new outfit for her Hawaiian exit: a tropical-looking dress with large leaves from the London-based brand Borgo de Nor, a label she had yet to wear as first lady.
Donning nude flats for a flight to Japan, we have to say Trump's bright-patterned look shocked us — and she continued doing so with her fashion choices throughout her trip.
Sunday, Nov. 5: A funky Fendi coat for Tokyo
Mark this down as one of the more unexpected outfits Trump wore this week. After arriving in Japan on Sunday, Trump wore a funky and unusual beige, black and orange Fendi coat over a leather pencil skirt from one of her favorites, Hervé Pierre.
Sunday, Nov. 5: A demure black look for dinner with Japan's prime minister
To round off the day, Trump reverted to her beloved black for dinner with Japanese Prime Minister Shinzo Abe and his wife, pairing a Hervé Pierre coatdress with her signature black Manolo Blahnik stilettos to match.
Monday, Nov. 6: A blue Dior for exploring Japan
On Monday, Trump's fondness for '50s silhouettes showed again when she wore a caped, midnight-blue Dior dress for visits to the Imperial Palace and Kyobashi Tsukiji Elementary School.
Of course, she wore blue ombré Manolo Blahnik heels that matched her dress exactly.
Monday, Nov. 6: A bright red Valentino for a state dinner
For her final outfit change Monday, Trump slipped into a bright red dress from Valentino — another classic choice — for a state dinner with Japan's leaders.
Tuesday, Nov. 7: A large aubergine coat for South Korea
On Tuesday, the Trumps flew from Japan to South Korea — and for their arrival, Trump appeared in a voluminous purple coat from Delpozo, the Spanish label she's worn many times before.
As for the shoes, she opted for suede Louboutins in a brighter purple.
Tuesday, Nov. 7: A glittery number for dinner in Seoul, South Korea
For dinner at the Blue House — the South Korean equivalent of the White House — Trump wore a surprisingly glittery black-and-blue lace gown from J. Mendel.
Wednesday, Nov. 8: A military-inspired McQueen coat for one last stop in Seoul, South Korea
Trump and her husband visited South Korea's National Cemetery for one last stop, to which Trump wore a military-inspired, black Alexander McQueen coat with a black leather belt cinched at the waist.
Wednesday, Nov. 8: A black coat (again) for her arrival in Beijing
Trump was in Beijing hours later, wearing an entirely different black coat from Dolce & Gabbana with black heels to match.
Thursday, Nov. 9: A Dolce & Gabbana floral dress for a welcome ceremony in Beijing
Trump kept loyal to D&G the next day, wearing a long black dress embellished with flowers to a welcome ceremony and a primary school in Beijing.
Thursday, Nov. 9: An Asian-inspired Gucci look for dinner in Beijing
Well, this was unexpected. For dinner in Beijing with China's first lady Peng Liyuan, Trump wore a Gucci dress featuring an Asian-inspired pattern and tufts of pink fur at the end of the sleeves.
A shame this look didn't come from a Chinese designer though, we have to say.
Friday, Nov. 10: A classic silhouette for traversing the Great Wall
Here's the Melania Trump we know. For visiting the Beijing Zoo and the Great Wall of China on Friday, Trump wore a long grey skirt, nude flats, a black sweater and a black coat. She cinched the whole look together with a wide pink leather belt, cut to look like lace.
A classic yet casual — at least for Trump — look.
You can see previous recaps of what Melania Trump wore here.