We need to talk about Christina Aguilera's now-deleted IG post — and what it says about our culture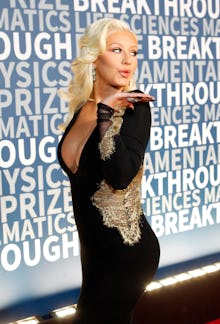 Any devout worshipper at the Church of X-tina will tell you that it's high holiday season for our girl.
Rumors of Christina Aguilera's (long delayed) sixth studio album are echoing louder and louder through the 10th circle of hell, aka Twitter. She's set to return to the American Music Awards stage later this month for the first time since 2013, in a tribute to the late Whitney Houston. Though we're not getting a much-needed sequel to the criminally underrated Burlesque, Aguilera is set to make her long-awaited big screen return opposite Ewan McGregor in 2018's Zoe.
And perhaps most obviously, she's begun to establish her new era through a distinct, well-received makeover courtesy of stylist Marc Goehring, which debuted on Instagram earlier this month.
Even the new class of pop stars has been fanning out to Aguilera of late, singing her praises on social media and in interviews: Demi Lovato, Sam Smith and Dua Lipa, just to name a few.
To quote the intro from her 2002 masterpiece Stripped, [She] waited a long time for this. It feels right now."
But then, a hiccup — not caused by Aguilera herself, but likely by an internet culture that freely wallows in the criticism of women's appearances — especially female celebrities. It happened quickly, early on Thursday night, when Aguilera posted a now-deleted Instagram depicting a rare, candid-ish shot of herself.
Despite Aguilera hastily deleting the photo, a swath of social media still felt entitled to scrutinize the photo, in particular Aguilera's appearance. It wasn't just anonymous trolls, either.
"Christina Aguilera Is Unrecognizable In Now-Deleted Instagram Photo," BreatheHeavy's Jordan Miller headlined his article, saying that although he is "not in the business of criticizing a woman's face ... it was quite a shock to see the photo on my timeline." He went on to call the look "very confusing," and posted the story with the caption "I... I don't know how to feel about Christina Aguilera's new face."
This is from a gay man explicitly not in the business of criticizing a woman's face. Sure, Jan.
The comment section of the post quickly lit up. Many in particular noted the appearance of Aguilera's plumper lips. Some merely questioned their appearance, others launched more vicious attacks. This attention mirrors a similar reaction to when rapper Lil' Kim posted photos of herself in 2016. Or when Uma Thurman walked the red carpet at The Slap premiere in 2015. Or when Renee Zellweger stepped out at Elle's annual Women In Hollywood Awards in 2014.
All of these instances bore one word in common when covered by the media: unrecognizable.
There's no new phenomenon, or unspoken stigma at play here. Yet Aguilera's swift removal of the photo (for reasons we'll likely never know for sure) signals an awareness — proof that ridicule may permeate even those perched atop a throne as golden as Aguilera's.
It's troubling that Aguilera removed the photo. Not because she shouldn't have the autonomy to post or unpost as she pleases, but because it could be emblematic of the power of hateful comments, and how normalized critiquing women's appearances has become in our culture, particularly online.
At best, this one deleted Instagram post will have little to no bearing on the conversation around Aguilera's imminent return. At worst, it could set the obnoxious and tired precedent of placing the star's looks at the center of the hype around the reemergence of one of the most talented vocalists of a generation.
In the end, who gives a fuck if Christina Aguilera wants to get lip fillers? So long as she gives us the new album, there's nothing to complain about here.