McCain says Roy Moore allegations are "disqualifying." Why won't other GOP lawmakers say the same?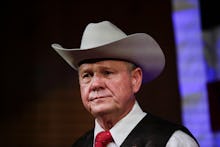 Sen. John McCain (R-Ariz.) on Thursday called the child molestation allegations against far-right Republican Roy Moore "disqualifying," calling on the Alabama Senate hopeful to "immediately step aside."
"The allegations against Roy Moore are deeply disturbing and disqualifying," McCain tweeted. "He should immediately step aside and allow the people of Alabama to elect a candidate they can be proud of."
Moore allegedly molested a 14-year-old girl in 1979, when he was 32, the Washington Post reported Thursday. Three other women also accused Moore of pursuing them when they were between the ages of 16 and 18 and he was in his 30s.
Leigh Corfman, the woman Moore allegedly molested when she was 14, said the then-assistant district attorney kissed her, undressed her, touched her over her underwear and "guided her hand to touch him over his underwear," according to the Post.
Moore denied the allegations as "fake news," but nonetheless has faced a tidal wave of criticism and calls to withdraw from the race, including from former Republican presidential candidate Mitt Romney.
"Innocent until proven guilty is for criminal convictions, not elections," Romney said in a strong condemnation of the candidate. "Moore is unfit for office and should step aside."
Republican lawmakers equivocate on Moore
McCain has been an outlier among GOP lawmakers in his comments about Moore.
His colleagues have also suggested Moore may need to withdraw, but not without including some version of the caveat, "if these allegations are true."
"If these allegations are true, he must step aside," Senate Majority Leader Mitch McConnell told CNN on Thursday.
The White House issued its own "if true" statement Thursday, with press secretary Sarah Huckabee Sanders telling reporters aboard Air Force One that President Donald Trump "believes we cannot allow a mere allegation, in this case one from many years ago, to destroy a person's life."
"The president also believes that if these allegations are true, Judge Moore will do the right thing and step aside," Sanders added.
Nita Chaudhary, cofounder of the women's advocacy organization UltraViolet, said the equivocating responses from GOP lawmakers have been "shameful, disgusting and outrageous."
"With their self-serving and half-hearted 'if true' statements, Republicans from the White House on down have chosen to side with Roy Moore — not with the numerous on-the-record statements from the brave women who have come forward," Chaudhary said in a statement to Mic. "Republicans must trust these women, drop their ridiculous and self-serving hedges of 'if true,' believe women and make crystal clear that pedophiles like Roy Moore have no place in the Republican Party or the U.S. Senate."
It's unclear how much of an impact the allegations against Moore will have on his candidacy.
While some conservative standard-bearers like the National Review have called on the ex-judge to drop out of the race, Republican officials in Alabama have been stunningly cavalier about the disturbing allegations, as the Toronto Star's Daniel Dale documented.
On Fox News, The Five cohost Jesse Watters called the allegations against Moore "disgusting" and said he should "do the decent thing" and "step down." But fellow Fox pundit Sean Hannity seemed to dismiss the accusations, suggesting the women in the Post article — one of whom said she voted for Trump in 2016 — are conducting a political smear on Moore. He also seemed to suggest at least some of Moore's alleged relationships with teenage girls were "consensual."
"John McCain has now just called for Roy Moore to withdraw, whether or not the allegations are true," Hannity said on his radio show Thursday. "There's politics in all of this. Then you have false allegations that are made, and you know — how do you determine?"
McCain's office did not return Mic's request for comment on the overall Republican response to the Moore allegations.
Moore — an extreme anti-gay conservative — defeated Luther Strange in September to become the Republican nominee in the special election to fill Attorney General Jeff Sessions' former Senate seat. He is facing Democrat Doug Jones in the Dec. 12 election.
After the Post dropped its bombshell report Thursday, Moore used the allegations in a fundraising email.
"The Obama-Clinton machine's liberal media lapdogs just launched the most vicious and nasty round of attacks against me I've ever faced," Moore wrote to supporters. "That's why I must be able to count on the help of God-fearing conservatives like you to stand with me at this critical moment."