Aly Raisman says Olympic team doctor sexually abused her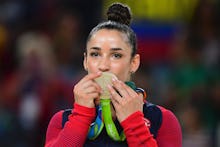 Olympic gymnast Aly Raisman, 23, has joined the chorus of women speaking up about their experiences with sexual assault, saying that she was sexually abused by her team doctor in an interview with 60 Minutes that will air in full on Sunday.
In a clip from the upcoming interview, Raisman railed against the "culture" that made women "so afraid to speak up" about abuse they experienced.
Raismen is one of more than 100 women to come forward to say they were sexual abused by Olympic team doctor Larry Nassar, who served as a doctor at the sports-medicine clinic at Michigan State University in addition to his tole as a USA Gymnastics team doctor. In July, Nassar pled guilty to charges of receiving and possessing child pornography.
In October, fellow Olympian McKayla Maroney said in a statement posted on Twitter that she had been sexual abused by Nassar started when she was just 13.
Raisman told 60 Minutes that she spoke to the FBI about Nassar after the 2016 Rio Olympics. She also said she wanted to change the culture for girls and young women who want to follow in her footsteps.
"When I see these young girls that come up to me, and they ask for pictures or autographs, whatever it is, I just ... every time I look at them, every time I see them smiling, I just think — I just want to create change so that they never, ever have to go through this," Raisman said.