Fake news troll Jack Posobiec doxxes woman who accused Republican Roy Moore of child abuse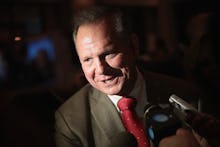 Jack Posobiec, a conspiracy theorist who peddles fake news, attempted to doxx a woman on Friday who accused a Republican Senate candidate of molesting her when she was just 14 years old.
Posobiec tweeted a photo of Leigh Corfman purportedly at her last known place of employment — a move some say is an effort to open Corfman up to harassment and possibly put her in danger.
Posobiec later deleted the tweet, and apologized, blaming the doxxing on the website Heavy.com.
"While reading the Heavy article I saw the reported information. It was a public Facebook post. Now I realize it wasn't a good idea to post it myself and took it down out of respect for the accuser," Posobiec tweeted.
One of Posobiec's supporters, Mike Cernovich, also came to his defense.
"Jack Posobiec found an image on Heavy dot com, it was public, and on my advice he deleted it," Cernovich tweeted of the situation. "He certainly did not dox anyone, but out of respect for accusers realized it wasn't appropriate."
A spokesperson for Twitter directed Mic to its policies regarding posting personal information and said the company was looking into it.
Corfman came forward to accuse Roy Moore, the GOP nominee in an upcoming Senate special election in Alabama, of molesting her back in the late 1970s. She told the Washington Post that Moore kissed her and tried to get her to touch his erect penis, even after knowing Corfman was 14 and underage.
Three other women also accused Moore of pursuing them when they were between the ages of 16 and 18 and he was in his 30s.
Posobiec — a major supporter of President Donald Trump — is one of a handful of Trump allies, such as Sean Hannity, who are trying to discredit Corfman or downplay the other accusations against Moore.
Alabama State Auditor Jim Ziegler invoked the Bible to say Moore's behavior wasn't disqualifying.
"Take Joseph and Mary. Mary was a teenager and Joseph was an adult carpenter. They became parents of Jesus," Ziegler told the Examiner.
Moore is backed by former Trump adviser Steve Bannon, who is trying to oust "establishment" Republicans from Congress and install GOP legislators who hold Trump's nationalist and anti-Muslim positions.
Moore, for his part, has denied the accusations, calling them fake news and a smear campaign by the Washington Post — and he's refusing to drop out of the race, despite pressure from some Republicans to do so.
The wagon-circling by some Republicans, including ones in Alabama, is a sign Moore may still win the race despite the serious allegations levied against him.
Kelsey Sutton contributed to this report.
Nov. 10, 2017 1:57 p.m.: This article has been updated.