Sean Hannity faces backlash over Roy Moore child molestation defense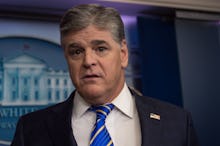 Sean Hannity is coming under fire for comments he made Thursday in defense of Roy Moore — the Alabama Republican running for Jeff Sessions' old Senate seat who was accused of molesting a 14-year-old girl in 1979.
"You've got the swamp, you've got the sewer, you've got the establishment — they hate Roy Moore," the Fox host said on his radio show. "So, there's politics in all this."
In a bombshell Washington Post report earlier in the day, a woman said Moore kissed her, undressed her, touched her and "guided her hand to touch him over his underwear" when she was 14 and he was a 32-year-old assistant district attorney. Three other women also said Moore pursued them when he was in his 30s and they were between the ages of 16 and 18.
Moore has faced calls to withdraw from Alabama's special election, including from prominent Republicans like Sen. John McCain (R-Ariz.), former presidential candidate Mitt Romney and Ohio Gov. John Kasich.
But Hannity came to the embattled ex-judge's defense, suggesting the allegations were a political smear and that, even if true, the accusations weren't that bad.
"Do some people do it for political reasons?" Hannity asked. "How do you possibly tell, know the truth, except — OK, so the two other girls were older in this case. He was apparently, like, 32, and he dated — one girl was 18, one girl was 17. They never said he did — there was no sexual — there was kissing involved."
In an exchange with cohost Lynda McLaughlin, Hannity also seemed to suggest some of the encounters were consensual.
Calls for advertisers to cut ties with Hannity
The Fox News pundit has faced a maelstrom of criticism following his controversial comments, with many calling on advertisers to pull out of Hannity's show.
Fox News cut ties with Bill O'Reilly in April amid the advertiser exodus that followed the host's massive sexual misconduct scandal.
Hannity said late Thursday his words were misconstrued and that he was referring to the older teens — not the 14-year-old — when he said Moore's encounters were "consensual."
"I apologize when I misspoke and was not totally clear earlier today," Hannity said in a multi-part statement posted to Twitter on Thursday. "People need to listen to the totality of my remarks if they care about the truth."