Louis CK releases statement on abuse allegations: "These stories are true"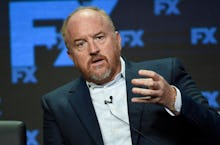 In a statement released Friday, comedian Louis C.K. addressed the allegations of sexual misconduct against him that were detailed in a New York Times report Thursday.
"I want to address the stories told to the New York Times by five women named Abby, Rebecca, Dana, Julia who felt able to name themselves and one who did not. These stories are true," C.K. said in the statement, which circulated widely on Twitter and was published in full by several outlets, including the Times.
Seeming to confirm years of industry rumors related to the actor, comedian and director, Thursday's Times report included accusations of sexual misconduct from five women who said C.K. behaved inappropriately toward them.
Ahead of the report's release, the Orchard, the distribution company for C.K.'s upcoming film I Love You, Daddy, announced it was canceling the film's New York premiere. On Friday, the company announced it was canceling the film's release altogether.
In his statement Friday, C.K. said he was "remorseful of my actions," adding, "Now I'm aware of the extent of the impact of my actions. I learned yesterday the extent to which I left these women who admired me feeling badly about themselves and cautious around other men who would never have put them in that position."
He also expressed "regret" the allegations against him had "brought negative attention" to his manager, Dave Becky. In the Times report, an agent for two of the women who claimed C.K. harassed them said Becky was "upset" they were speaking openly about C.K.'s behavior. Becky told the Times in an email that he "never threatened anyone."
C.K. concluded his statement by saying, "I've brought pain to my family, my friends, my children and their mother. I have spent my long and lucky career talking and saying anything I want. I will now step back and take a long time to listen. Thank you for reading."