Roy Moore loses lead in Alabama Senate race after woman alleges he sexually molested her as a teen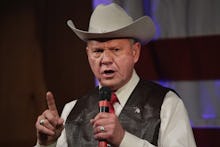 Republican Roy Moore has lost ground in the upcoming Senate special election in Alabama, and is now tied with his Democratic opponent, according to a new poll released on Friday by Opinion-Savvy.
The survey found both Moore and Democratic nominee Doug Jones with 46% support. The winner of the election will serve the remainder of formerSen. and current U.S. Attorney General Jeff Sessions' term.
Moore's support is down from the 50% to 45% lead he held over Jones in an Opinion-Savvy poll from late September.
The new poll was conducted on Nov. 9, after a woman came forward to the Washington Post to accuse Moore of molesting her when she was just 14 years old. The vast majority, or 82%, of those surveyed in the poll said they had heard the allegations.
Some Republicans are calling on Moore to step aside from the race, while the National Republican Senatorial Committee — which seeks to elect Republicans to the Senate — severed a fundraising agreement they had with Moore.
But the poll found that more than half, or 54%, said Moore shouldn't drop out of the race. An overwhelming 73% of Republicans say Moore should stay in the race.
Yet, when voters were given the option of voting for Moore, Jones or writing in Sen. Luther Strange — the Republican who was appointed to fill the seat but who lost to Moore in a GOP primary runoff — Moore officially loses his lead.
In that scenario, Jones leads with 44%, Moore drops to 41% and Strange clocks in at 12%.