Roy Moore says he didn't "generally" date teens in defiant, contradictory interview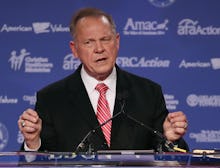 Alabama Senate candidate Roy Moore said he didn't "generally" date teenagers when he was in his 30s — and he never dated "any girl without the permission of her mother," on Friday in a defiant interview with conservative Fox News host Sean Hannity.
Moore, the Republican nominee for Alabama's Senate special election, tried to defend himself on The Sean Hannity Show in the wake of a bombshell Washington Post story. Published Thursday, the report contains details from a woman who alleged that Moore molested her when she was a 14 years old in 1979. On Thursday, Moore characterized the Post report as "the very definition of fake news," and has said that the report was politically motivated.
In the Hannity interview, Moore said that Democrats and establishment Republicans were behind the allegations, which he called "false and misleading." In a campaign statement Friday, Moore said he never engaged in sexual misconduct.
"After 40 years, four weeks out of an election, not even mentioned in a primary, they bring charges and try to back them up with other things that sound bad," Moore said of the Post's reporting, which has prompted some Republicans to call for Moore to drop out of the race. But Moore also seemed to confirm some of the Post's reporting, saying at the beginning of the interview he would not deny that he dated some teen girls.
"I don't dispute that," Moore said when hHannity asked whether he had dated girls as young as 16. (The age of consent in Alabama was and is 16.)
Later on, Moore seemed to walk that back. When asked whether Moore dated teen girls, Moore said, "Not generally, no."
Leigh Corfman, an Alabama woman, accused Moore of initiating sexual contact with her twice when she was 14 after approaching her while she waited outside of an Alabama courtroom at a a child custody hearing. Her account was corroborated by 30 sources. Moore emphatically and repeatedly denied initiating sexual contact with a 14-year-old during the interview.
Moore also said he did not remember giving teen girls alcoholic drinks, another allegation made in the Post story in accounts of Moore taking teen girls out on dates. Moore explicitly denied the charge of providing alcohol to minors in a statement released Friday.
Hannity, who detailed the allegations and went through many of them point-by-point with Moore, said that the most important takeaway was that Moore had "pretty much been convicted in the court of public opinion." And Moore, then, said his campaign had "evidence of collusion" involving the Post's story, which Moore said was "not ready to put ... to the public just yet."
At the end of the interview, Hannity, calling sexual relationships with 14-year-olds "disgusting," repeatedly asked Moore whether he dated teenagers. Hannity added that he would be upset if he found out that his teen daughter was dating a 30-year-old.
"You can say unequivocally you never dated anybody that was in their late teens like that when you were 32?" Hannity asked.
"It would have been out of my customary behavior," Moore said. "That's right."
Hannity tried again: "In other words, you don't recall ever dating a girl that young when you were that old?"
"I've said, 'No,'" Moore said.
"And you think that's inappropriate?" Hannity pushed. "That's what you're saying?"
"Inappropriate," Moore responded. "Yes."