Trump says he takes Putin's word over US intelligence, believes Russia did not meddle in election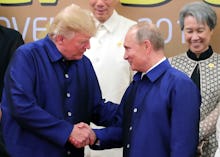 President Donald Trump on Saturday told reporters that he not only believes Vladimir Putin when he says Russia didn't meddle in the 2016 election, but also that United States intelligence leaders who say otherwise are "hacks."
"He said he didn't meddle. I asked him again. You can only ask so many times," Trump told reporters aboard Air Force One Saturday. "Every time he sees me, he says, 'I didn't do that. And I believe, I really believe, that when he tells me that, he means it."
"I mean, give me a break, they are political hacks," Trump said, referring to former FBI Director James Comey, former Director of National Intelligence James Clapper and former head of the CIA James Brennan. "So you look at it, I mean, you have Brennan, you have Clapper and you have Comey. Comey is proven now to be a liar and he is proven now to be a leaker. So you look at that and you have President Putin very strongly, vehemently says he had nothing to do with them."
Trump met with Putin during the Asia-Pacific Economic Cooperation Summit in Vietnam, where they apparently discussed Syria and issued a joint statement on their "determination to defeat ISIS."
"The presidents agreed that there is no military solution to the conflict in Syria," the statement read, adding that the "ultimate political solution" would follow the Syrian-led political process outlined by the United Nations in 2015.
The two presidents had originally been expected to meet to discuss tensions in North Korea, but White House press secretary Sarah Huckabee Sanders told reporters Friday that "there was never a meeting confirmed and there will not be one that takes place due to scheduling conflicts on both sides."
"There's no formal meeting or anything scheduled for them. Now, they're going to be in the same place, so are they going to bump into each other and say hello? Certainly possible and likely," Sanders said. "But in terms of a scheduled, formal meeting, there's not one on the calendar and we don't anticipate that there will be one."
The two did not apparently discuss North Korea, but Trump said that he again asked Putin if Russia interfered in the U.S. presidential election last year, which he said the strongman seemed "insulted" by.
"Putin said he did not do what they said he did," Trump explained.
He had previously "pressed" Putin on Russian meddling in their first meeting at the G20 summit over the summer and, according to the Kremlin, accepted the Russian president's denial.
On Saturday, Trump confirmed that he took Putin's word over his own intelligence and denied allegations that his campaign colluded with the Kremlin.
"There was no collusion. Everybody knows there was no collusion," Trump told reporters. "I think it's a shame that something like that could destroy a very important potential relationship between two countries that are really important countries."
The FBI, along with three Congressional panels, is investigating Trump as part of its intensifying probe into Russian interference.
The president's former campaign manager, Paul Manafort, and his associate Rick Gates, have both been indicted by special counsel Robert Mueller, while a former foreign policy adviser, George Papadopoulos, has already plead guilty to lying to investigators about his Russian contacts.
Trump has repeatedly declared the probe a "witch hunt" and on Saturday again suggested that it is a smear narrative concocted by his political rivals.
"That whole thing was set up by the Democrats," Trump said.
Dmitri Peskov — Putin's press secretary — told CNN that the two presidents did not discuss election meddling during their APEC talks.