As Republicans pull Roy Moore support, Trump says he's sticking with him, "for now"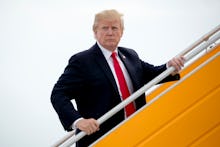 President Donald Trump declined to say Saturday if he thinks Republican Roy Moore should withdraw from the Alabama Senate race amid molestation accusations, telling reporters on Air Force One that he'll have to "get back into the country to see what's happening."
"I mean, I basically put out a statement, which is obvious," Trump said. "So I'll stick with my statement for now, but I'll have further comment as we go down the road."
Moore was accused in an explosive Washington Post report Thursday of molesting a 14-year-old girl in 1979 when he was 32 and pursuing three other women when they were between the ages of 16 and 18.
Sarah Huckabee Sanders — Trump's press secretary — said in a statement to reporters Friday that the president "believes that we cannot allow a mere allegation — in this case, one from many years ago — to destroy a person's life. However, the president also believes that if these allegations are true, Judge Moore will do the right thing and step aside."
Trump on Saturday told reporters that he'll be sticking to that statement for now, even as other Republicans — who had largely equivocated on their response to the disturbing allegations — began withdrawing their support for the far-right Republican.
Moore has denied the accusations against him, but in an interview with Sean Hannity Friday would not definitively say that he had not dated teenagers.
"You can say unequivocally you never dated anybody that was in their late teens like that when you were 32?" Hannity asked.
"It would have been out of my customary behavior," Moore said. "That's right."
Sen. John McCain (R-Ariz.) and former Republican presidential candidates Mitt Romney and John Kasich have all called for Moore to step aside in light of the allegations.
But other Republicans have been less definitive in their calls for the ex-judge to withdraw, with some Alabama Republican officials going as far as to say they'd vote for him even if the allegations were found to be true.
"I would vote for Judge Moore because I wouldn't want to vote for [Democrat Doug Jones]," Bibb County party chairman Jerry Pow told Daniel Dale of the Toronto Star.
Trump dodged reporters' questions about Moore Saturday, claiming he hasn't been able to "devote very much time to it."
"I've been with you folks, so I haven't gotten to see too much. And believe it or not, even when I'm in Washington or New York, I do not watch much television ... primarily because of documents. I'm reading documents," Trump said. "But anyway, so I have not seen very much about him, about it. And you know I put out a statement yesterday that he'll do the right thing."
Moore has used the allegations against him in fundraising emails and has given no indication he plans to withdraw from the race.
Even when a reporter detailed the accusations against Moore to Trump, the president still deflected, saying "I'd have to look at it and I'd have to see."