George Papadopoulos' "limited" role in Trump's campaign may have just gotten a whole lot bigger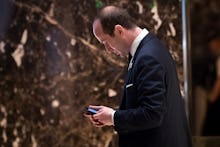 Stephen Miller — a top aide to President Donald Trump — was reportedly in regular contact with George Papadopoulos, contradicting the White House characterization of the former foreign policy adviser as having played an "extremely limited" role on the campaign.
According to the New York Times on Friday, Papadopoulos kept Miller updated about his contacts with Russians, telling the senior adviser that the then-Republican candidate had an "open invitation" to meet with Russian President Vladimir Putin and that he had "some interesting messages coming in from Moscow about a trip when the time is right."
Papadopoulos pleaded guilty to a charge of lying to the FBI about his Russia contacts in early October and has apparently been cooperating with special counsel Robert Mueller's investigation.
Both Trump and White House press secretary Sarah Huckabee Sanders have downplayed Papadopoulos' role on the campaign.
"Few people knew the young, low level volunteer named George, who has already proven to be a liar," Trump tweeted Oct. 31.
"No activity was ever done in an official capacity on behalf of the campaign in that regard," Sanders told reporters Oct. 30, the day Mueller's office unsealed documents revealing Papadopoulos' indictment and guilty plea. "This individual was the member of a volunteer advisory council that met one time over the course of a year, and he was part of a list that was read out in the Washington Post. I'd hardly call that some sort of regular adviser."
But he was found to have represented the campaign on several occasions and had told several more senior campaign officials — including Trump himself — of his relationship-building with Russia.
During a national security meeting in March 2016, Papadopoulos brought up the possibility of connecting Trump and Putin.
Trump reportedly "listened with interest," but Jeff Sessions — now the attorney general — "vehemently" rejected the suggestion.
Miller — who was present at the meeting — was recently interviewed by Mueller's team about Papadopoulos.
He is the highest ranking current White House official known to have met with the special counsel so far.
The FBI's probe into Russian election interference has intensified dramatically in recent weeks. The day Mueller revealed Papadopoulos' guilty plea, he indicted former Trump campaign manager Paul Manafort and his associate Rick Gates.
Trump maintains that the probe is a "witch hunt," telling reporters Saturday that "everybody knows there was no collusion" and suggested that the ongoing Russia investigation is jeopardizing Washington's relationship with Moscow.
"I think it's a shame that something like that could destroy a very important potential relationship between two countries that are really important countries," he said, telling reporters he trusts Putin's denial of election interference over the conclusions of his own intelligence community.
The White House previously said the charges against Manafort and Gates have "nothing to do with the president" and that Papadopoulos' charges have "nothing to do with the activities of the campaign."
According to the Times report, Papadopoulos had been considered a "surrogate" by the campaign and helped edit a Trump foreign policy speech in April 2016.