John Kelly is taking over the White House as his critics grow increasingly frustrated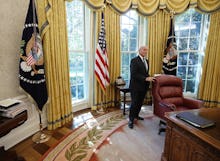 Chief of staff John Kelly is expected to further expand his White House power in a series of staffing changes in the Trump administration, according to a Politico report Friday.
According to the report, Kelly will continue to weed out White House officials tied to his predecessor, Reince Priebus, and will be "deeply involved" in the search for replacements.
Specifically, he is said to be looking for replacements for deputies Rick Dearborn, a former Senate aide to Jeff Sessions, and Kirstjen Nielsen, who is assuming Kelly's previous job helming the Department of Homeland Security.
Dearborn has been increasingly "marginalized" in the White House by Kelly, according to Politico, as his duties to deputy Joe Hagin and director of legislative affairs Marc Short.
Meanwhile, Nielsen is preparing to be confirmed as secretary of the DHS in what Politico reports is seen internally as Kelly continuing to extend his tentacles into his former department.
It is unclear if Kelly will replace one or both of the deputies; according to Politico, he may eliminate one of the deputy positions in an effort to streamline operations.
Kelly replaced Priebus in July amid a relentless stream of White House leaks and highly publicized infighting.
The retired general was hired to bring order to the chaotic White House, and has been regarded as the "adult in the room" to contain President Donald Trump.
Kelly's honeymoon comes to an end
But critics have grown increasingly frustrated with Kelly as he fails to rein in Trump — and reveals some similarities with his brash boss.
Kelly had been framed as Trump's opposite and comic foil: a no-nonsense former general who often appeared hilariously mortified by the president's frequent fiascos, like his overheated remarks on North Korea at the United Nations General Assembly in September.
In photos from the UN speech, in which Trump said the U.S. may "totally destroy" North Korea, Kelly has his head in his hand, massaging his temples.
But he put aside rumors that he was frustrated with his boss in an October press briefing in which he charmed reporters with a reasonable, non-combative style — a marked departure from the relentlessly stern Sarah Huckabee Sanders.
He has been seen as a check on Trump's power, as Sen. Bob Corker (R-Tenn.) insinuated in a tweet slamming the president.
But the charm has quickly worn off for many of Kelly's critics, who have lamented his propensity for false, divisive claims and support for draconian policies.
The honeymoon started to end Oct. 19, when Kelly defended Trump in his feud with Rep. Frederica Wilson (D-Fla.), who claimed the president offended the pregnant widow of a fallen soldier in a condolence call gone awry.
Kelly, in a presser, called Wilson an "empty barrel" and said she was "selfish."
"It stuns me that a member of Congress would have listened in on that conversation," Kelly said.
The Florida congresswoman reportedly received a wave of racist death threats following the attacks by Trump and Kelly that kept her from Washington, D.C., for more than a week.
Then, on Oct. 30, Kelly faced backlash after claiming in a Fox News interview that the Civil War was caused by a lack of "compromise" and that Confederate Gen. Robert E. Lee was an "honorable man."
"The lack of an ability to compromise led to the Civil War," Kelly said, discussing Confederate monuments. "And men and women of good faith on both sides made their stand where their conscience had them make their stand."
Most recently, it was reported that Kelly had tried to "pressure" acting DHS Secretary Elaine Duke to deport "tens of thousands of Hondurans" in the United States on residency permits — something Duke felt was "politically driven" and refused to do, according to the Washington Post.
Kelly's chief deputy Nielsen is expected to be confirmed at the DHS. She had been Kelly's top aide when he ran the department from January to July. If confirmed, she will oversee the department critical to Trump's plans on immigration and the border wall.
According to Politico, Jim Carroll — a White House lawyer — may succeed Nielsen as Kelly's chief deputy. The administration confirmed that Carroll would be joining the White House staff in some capacity.