This week in Trump-Russia news: Don Jr. may have suggested quid pro quo with Kremlin-linked lawyer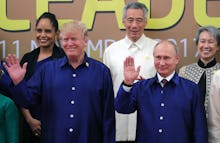 Donald Trump Jr. — the president's eldest son — hinted his father would review the Magnitsky Act if elected in exchange for dirt on Democrat Hillary Clinton, Russian lawyer Natalia Veselnitskaya said in an interview this week.
"Looking ahead, if we come to power, we can return to this issue and think what to do about it,'' Trump Jr. said, according to Veselnitskaya. "I understand our side may have messed up, but it'll take a long time to get to the bottom of it."
His alleged remark came during a 2016 meeting with the Kremlin-connected attorney at Trump Tower, which he took believing she had damaging information about his father's opponent, emails released by the president's son showed.
Here's what you need to know about the latest developments on the infamous Trump Tower meeting and other twists this week in the intensifying Russia investigation.
Trump Jr. sought financial documents in "failed" meeting
Trump Jr. went into the 2016 meeting with Veselnitskaya seeking documents that would show the Clinton campaign had taken donations that had skirted United States tax laws, according to the lawyer.
She said she didn't have such documents and the meeting was a "failure."
The Trump Tower meeting — which was also attended by since-indicted campaign chairman Paul Manafort and senior adviser Jared Kushner, the president's son-in-law — has been a key focus for both FBI and congressional investigators since it was first reported over the summer.
Both the Trump team and Veselnitskaya have downplayed the significance of the meeting.
But according to an October report by the New York Times, Veselnitskaya arrived at the 2016 meeting with Trump's son and top campaign officials with a memo full of Moscow-approved talking points.
Stephen Blank, a senior fellow with the nonprofit American Foreign Policy Council in Washington, told the paper that the memo suggests Veselnitskaya's actions "were coordinated from the very top."
Mueller's drumbeat gets louder for Flynn
All eyes are on Michael Flynn now that Manafort and his associate Rick Gates have been indicted in special counsel Robert Mueller's probe.
Flynn — who was Trump's national security adviser for less than a month before resigning in scandal — has been one of the most scrutinized figures in the FBI investigation into Russian election interference.
Late last week, it was reported that Mueller has enough to bring charges against the retired general, leading to questions as to why he hasn't been indicted yet and speculation that he is already cooperating with investigators.
This week, it was revealed that Mueller is examining a meeting between Flynn and Rep. Dana Rohrabacher (R-Calif.), a congressman considered sympathetic to Russia, before the election. He is also investigating an alleged plot for Flynn and his son to kidnap a U.S.-based Muslim cleric, Fethullah Gulen, and deliver him to Turkish authorities.
Turkish President Recep Tayyip Erdogan has accused Gulen of attempting to subvert his government and the cleric has been in exile in Pennsylvania since the late 1990s.
Flynn is reportedly worried about the possibility of his son, Michael Flynn Jr., being brought down in the Russia probe — which may provide Mueller with even more leverage to get the ex-Trump adviser to play ball.
In a rare move Friday, Flynn's lawyers denied the deluge of damaging reports as "false."
"Out of respect for the process of the various investigations regarding the 2016 campaign, we have intentionally avoided responding to every rumor or allegation raised in the media," the lawyers said in a statement. "But today's news cycle has brought allegations about General Flynn, ranging from kidnapping to bribery, that are so outrageous and prejudicial that we are making an exception to our usual rule: they are false."
Miller faces Mueller in Papadopoulos probe
Mueller's investigation is climbing the ladder in the White House.
His investigators recently interviewed Stephen Miller, one of Trump's top advisers, it was reported this week.
The aide is the highest ranking current White House official known to have met with the special counsel.
FBI investigators reportedly questioned Miller about a March 2016 campaign meeting in which former foreign policy adviser George Papadopoulos attempted to broker a meeting between Trump officials and the Kremlin.
Miller was present for the meeting, during which Trump reportedly "listened with interest" to Papadopoulos' suggestion.
The White House has dismissed Papadopoulos as having played an "extremely limited" role on the campaign, but a report Friday showed he had been in regular contact with Miller and other more senior staffers and had helped edit a Trump foreign policy speech in April 2016.
Carter Page plays himself in Russia testimony
Carter Page — another former foreign policy adviser to Trump — testified last week that he met with Russian officials in 2016, including at least one high-ranking member of the Kremlin.
The House Intelligence Committee released the transcript of that testy interview this week, and it sure was a doozy.
In bizarre, often-rambling statements, Page revealed that he had told Trump officials of his Kremlin contacts and even suggested the GOP candidate speak at a graduation ceremony in Russia in his place.
Rick Wilson, a Republican strategist and vocal Trump critic, wrote in the Daily Beast that the interview made clear that Page "is a perfect example of the ad-hoc weirdness of the Trump campaign."
"Page is weird and wrong and in most campaigns he'd be the weirdest, wrongest dog in the pack," Wilson wrote. "In Trump world, Carter Page is in the middle quintile."
House investigators to quiz Sessions
The recent revelations about Papadopoulos — and Page — have brought new scrutiny to Attorney General Jeff Sessions, who has denied knowing anything about the campaign's Russian contacts.
Sessions was present at the 2016 meeting where Papadopolous proposed a meeting with Vladimir Putin, reportedly railing against the suggestion.
He was also told by Page of his upcoming meetings with Russians, though the former foreign policy adviser said it was "such a nothing event."
With the veracity of his prior statements called into question, Sessions now has another date on Capitol Hill.
He's expected to appear before the House Intelligence Committee Nov. 30.
The panel is also expected to meet next week with Rinat Akhmetshin, a Russian lobbyist with suspected ties to Putin's intelligence who was present at the 2016 Trump Tower rendezvous between Trump Jr. and Veselnitskaya.
Collins raises questions about Kushner
Sen. Susan Collins (R-Maine) raised questions Tuesday about potential "discrepancies" in Kushner's statements on Russia.
"I believe that whenever there are discrepancies in testimony, regardless of who it is, that we should recall people," Collins, a member of the Senate Intelligence Committee, told the Daily Beast.
Kushner is coming under scrutiny for failing to report a Kremlin-related business transaction revealed in the Paradise Papers this week.
Trump cozies up to Putin: "He said he didn't meddle"
Trump, meanwhile, is siding with Putin over his own intelligence leaders on Russian interference in the 2016 election.
"Every time he sees me, he says, 'I didn't do that,'" Trump told reporters Saturday, describing former U.S. intelligence officials as "hacks." "And I believe, I really believe, that when he tells me that, he means it."
Trump met with the Russian strongman during the Asia-Pacific Economic Cooperation summit in Vietnam Friday and the two released a joint statement on combating ISIS in Syria.
Trump again dismissed the notion that he colluded with the Kremlin and suggested that the ongoing Russia investigations are poisoning relations between Washington and Moscow.
"There was no collusion. Everybody knows there was no collusion," Trump said aboard Air Force One. "I think it's a shame that something like that could destroy a very important potential relationship between two countries that are really important countries."
The CIA, however, said in a statement Saturday that director Mike Pompeo "stands by and has always stood by the January 2017 intelligence community assessment" that Russia interfered with the presidential election.
"The intelligence assessment with regard to Russian election meddling has not changed," according to the statement.