A running list of companies pulling ads from Sean Hannity in wake of his defense of Roy Moore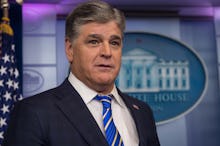 In a controversial interview, Sean Hannity appeared to come to Alabama Senate candidate Roy Moore's defense in the wake of a Washington Post report alleging Moore molested a 14-year-old girl. And if early signs are any indication, his show may end up paying the price.
Though many Republicans have been quick to denounce Moore's alleged advances on teenage girls, Hannity decried the allegations as a political attack against Moore. The host also tried to play down the accusations on Thursday, should they be true, by suggesting they were "consensual."
"How do you possibly tell, know the truth, except — OK, so the two other girls were older in this case. He was apparently, like, 32, and he dated — one girl was 18, one girl was 17," Hannity said on his radio program, according to Media Matters. "They never said he did — there was no sexual — there was kissing involved, and then they're saying this one encounter with a 14-year-old —"
"And it was consensual," co-host Lynda McLaughlin interjected.
"And consensual, that's true," Hannity agreed. "And there's — I just — I don't know how you find out the truth."
Hannity then had Moore on his radio show as a guest Friday, during which the candidate denied the charge of molesting a 14-year-old, but said he "generally" did not date teenage girls when he was over 30 years old.
Advertisers are now starting to pull out of Hannity's Fox News program in response to his controversial defense of Moore, including Keurig, E*Trade and other major companies.
In response, Hannity's supporters have begun to organize a boycott of Keurig and the other advertisers through social media, with one even going so far as to film himself dropping his Keurig machine from a second-story stairwell. One company that had initially pledged to pull their advertising, Realtor.com, has since backtracked on their pledge in the wake of the controversy, saying that their initial statement had been done in error and they would continue to advertise on Hannity.
According to Media Matters, companies who are still currently advertising on the Fox News program include AT&T, FedEx, McDonald's and Starbucks. Media Matters had begun a campaign encouraging advertisers to pull their advertising from Hannity's program months before his defense of Moore, reporting in September that a "dozen or so advertisers ... have chosen to drop [Hannity]."
Here's a running list of all the advertisers who have pulled their ads from Hannity's program in response to his defense of Moore.
Dollar Shave Club
Shaving subscription service Dollar Shave Club announced Wednesday on Twitter that they had "ceased advertising" with Hannity, saying that they do not condone "any illegal or unethical behavior."
Society for Human Resource Management
The Society for Human Resource Management announced on Monday that as of Friday, Nov. 10, the organization had stopped advertising on Fox entirely.
Volvo
In a tweet that has since been deleted, car manufacturer Volvo announced Monday that they had advised their advertising agency to cease advertising on Hannity's program.
Hebrew National, Reddi Wip and other Conagra brands
In a Monday evening tweet, Hebrew National, purveyor of hot dogs, announced it had removed Hannity's show from its advertising plans.
Reddi Wip — which is owned by the same parent company as Hebrew National — said Monday on Twitter that it had removed Hannity from the company's advertising plans.
The advertising removal also applies to all Conagra brands, a spokesperson confirmed to Business Insider on Monday, though a separate Conagra spokeswoman claimed on Tuesday that their decision not to advertise happened prior to the Roy Moore controversy.
Untuckit
In an email to Business Insider, men's shirt company Untuckit said they had removed their advertising from Hannity prior to the Roy Moore controversy, but said they had "no plans to revisit" advertising on the program.
"We have not advertised on Hannity for several weeks, although unrelated to the controversy surrounding his interview with Roy Moore," Untuckit CEO Aaron Sanandres to Business Insider. "The move was part of a larger assessment of where we spend our advertising dollars. We do not have any plans to revisit this decision."
The YMCA
The YMCA confirmed in an email to Business Insider that Hannity is not included in their current advertising plans, writing: "The Y is nonpartisan, and we advertise on many news and cable outlets with differing viewpoints to reach the more than 10,000 communities we serve. We have advertised on Hannity in the recent past, but our current advertising plans do not include the show." 
Keurig
In a tweet to Media Matters president Angelo Carusone, who has been spearheading efforts pressuring Hannity advertisers to pull their ads, Keurig said they worked with their "media partner and FOX News to stop [their] ad from airing during the Sean Hannity show."
In response to the social media backlash that ensued, Keurig CEO Bob Gamgort called the tweet an "unacceptable situation," adding that the company's public statement "gave the appearance of 'taking sides' in an emotionally charged debate that escalated on Twitter and beyond over the weekend, which was not our intent," as quoted by the Washington Post. He did not, however, imply that the company would return to advertising on Hannity.
ELOQUII
Plus-size fashion label ELOQUII announced Saturday that Hannity was blocked from its list of advertisers, though it was unclear if the program had been blocked because of Moore, or if the action had been taken prior to Hannity's remarks.
23andMe
In response to inquiries the company had received, genetic testing company 23andMe stated on Twitter Friday that they "are not running TV advertising on Hannity," though the company added that they "continue to closely evaluate where we advertise."
Nature's Bounty
On Friday, nutritional supplement company Nature's Bounty said on Twitter that they could "confirm that we do not have advertisements running on [Hannity]."
E*Trade
Though the company did not issue a Twitter statement of their own, Carusone confirmed on Twitter Friday that E*Trade had pulled their ads from Hannity's show.
Green Mountain Coffee
In a response to Twitter user Big Sur Weddings, Green Mountain Coffee announced that they, too, had severed ties with Hannity, writing: "We worked with our media partner and FOX news to stop our ad from airing during the Sean Hannity show."
Hubble Contacts
Carusone revealed on Twitter Monday that contact lens company Hubble Contacts had "no future plans to advertise on Hannity." The company was one of the Fox News program's most frequent advertisers, Carusone added.
HelloFresh
Food delivery company HelloFresh announced on Twitter Monday that the company "does not advertise on or around Sean Hannity's shows," adding that the company works continuously with its media buyers and advertising agency "to ensure that no HelloFresh ads run during his programs."
TripAdvisor
Carusone announced on Twitter Monday that travel company TripAdvisor said that any ads that the company had run on Hannity were "in error," adding that the situation is being addressed.
November 15, 2017 2:48 p.m.: This story has been updated.