George Takei just blamed Russia for spreading the sexual assault accusation against him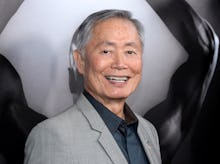 Following a recent accusation alleging George Takei sexually assaulted a man in 1981, the Star Trek actor is placing blame on an unlikely source — the Russians.
In a tweet that has since been deleted, Takei on Sunday suggested that Russian bots were amplifying the sexual assault allegations against him, posting a graphic from SecuringDemocracy.org showing a huge spike in trending topics amongst Russian bots for "Takei" and "George Takei" over the last 48 hours.
The actor said on Twitter that the Russians "want to cow me into silence," adding in a later tweet, which has also since been deleted, that Takei had previously faced cyber attacks from Russian bots after he criticized Russian President Vladimir Putin's anti-LGBTQ policies.
Takei has vehemently denied the allegation against him, in which former actor and model Scott R. Brunton alleged Takei sexually assaulted Bruton after he passed out at Takei's condo. In a Twitter thread, Takei said he was "shocked and bewildered" by Brunton's account and claimed that the alleged events "simply did not occur."
"Right now it is a he said/he said situation, over alleged events nearly 40 years ago," Takei wrote. "But those that know me understand that non-consensual acts are so antithetical to my values and my practices, the very idea that someone would accuse me of this is quite personally painful."
(Editor's note: Mic pays a promotion network that uses celebrities, including George Takei, to promote stories across social media platforms. Since the allegations against Takei surfaced, Mic has suspended this relationship. Takei's social media will no longer be used to promote Mic content.)
Takei's seeming attempt to deflect blame over his alleged actions comes soon after Takei sharply criticized Kevin Spacey for "deflecting" against his own sexual assault allegations by coming out as gay.
"When power is used in a non-consensual situation, it is a wrong," Takei said in a statement to the Hollywood Reporter on Oct. 30, adding, "Men who improperly harass or assault do not do so because they are gay or straight — that is a deflection. They do so because they have the power, and they chose to abuse it."