Photos show the massive far-right protest in Warsaw on Polish Independence Day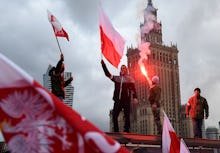 The Polish capital of Warsaw marked Poland's Independence Day Saturday with a massive protest led by far-right demonstrators, who protested in favor of nationalist and white supremacist views.
Approximately 60,000 people turned out for the annual demonstration, which the Associated Press reported has been taking place since 2009, albeit on a smaller scale. In addition to far-right extremists from Poland, the event was also attended by extremists from Hungary, Slovakia and Sweden, among other countries, and the AP noted that the rally may be the world's "biggest assembly of far-right extremists."
"The numbers attending this year seem to be bigger and, while not everyone on the march is a far-right activist or fascist, it is undoubtedly becoming more significant and is acting as a magnet for far-right groups around the world," Nick Lowles, who works with the United Kingdom anti-extremism group Hope Not Hate, told the Guardian.
During the rally, demonstrators chanted "Pure Poland, white Poland!" and "Refugees get out!", the Guardian reported, while attendees displayed banners with such slogans as "Pray for Islamic Holocaust" and "white Europe of brotherly nations."
Saturday's rally comes as Central Europe emerges as a "crucible for neo-fascism," the AP noted. The event also had ties to the far-right movement in the U.S.: Many attendees, the Guardian noted, marched under the slogan "We Want God!" referencing a Polish religious song that was recently quoted by President Donald Trump during his visit to the country.
Prominent American white nationalist Richard Spencer was also slated to speak at the event, the AP reported, but was ultimately barred from entering the country by the Polish government. In October, the Polish foreign ministry said Spencer's views "are in conflict with the legal order of Poland," adding: "As a country which was one of the biggest victims of Nazism, we believe that the ideas promoted by Mr. Spencer and his followers could pose a threat to all those who hold dear the values of human rights and democracy."
The rally did garner the support of the conservative faction of the Polish government, the Guardian noted, who characterized the event as a gathering of "patriots" rather than white supremacists.
"It was a beautiful sight," Poland's interior minister, Mariusz B?aszczak, said, according to the Guardian. "We are proud that so many Poles have decided to take part in a celebration connected to the Independence Day holiday."
The protest was one of many rallies and events taking place as part of the Polish Independence Day celebrations, NBC News noted. A smaller group of anti-fascist demonstrators organized a counterprotest against the far-right rally. Though the two groups were kept apart, NBC noted that one incident did take place, in which several female anti-fascist protesters were "pushed and kicked" by nationalist demonstrators.
"I'm shocked that they're allowed to demonstrate on this day. It's 50 to 100,000 mostly football hooligans hijacking patriotism," Andy Eddles, a British expatriate living in Poland, told the Guardian. "For me it's important to support the anti-fascist coalition and to support fellow democrats, who are under pressure in Poland today."