Movie academy silent on Hollywood's sexual harassment and assault scandals for just one night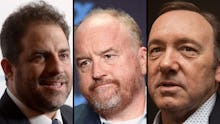 Sexual harassment and assault scandals may be barreling their way through Hollywood right now, but you wouldn't have known that if you attended this weekend's Governors Awards, the Academy of Motion Picture Arts and Sciences' star-studded ceremony that presented four giants of the industry with honorary Oscars.
There was no mention or even a reference during the evening's festivities to the recent bombshell revelations that have led to the takedowns of longtime movie mogul Harvey Weinstein, two-time Oscar winning actor Kevin Spacey, Brett Ratner, Louis C.K., Amazon executive Roy Price, talent manager and producer David Guillod and more. The list of alleged abusers continues to grow daily and now includes power players in publishing, fashion, tech and politics.
Just two years ago, during #OscarsSoWhite, calls for diversity permeated the entire Governors Awards ceremony. Last year, then Academy President Cheryl Boone Isaacs noted the progress the organization had been making in diversifying its membership with the goal of fostering inclusion throughout the industry. And it wasn't even a month ago when the Academy's board of governors took swift action and booted Weinstein from the organization.
"We do so not simply to separate ourselves from someone who does not merit the respect of his colleagues but also to send a message that the era of willful ignorance and shameful complicity in sexually predatory behavior and workplace harassment in our industry is over," a statement from the board read, in part. "What's at issue here is a deeply troubling problem that has no place in our society. The board continues to work to establish ethical standards of conduct that all Academy members will be expected to exemplify."
Even so, Saturday's gala maintained an air of celebration while handing out honorary Oscars to Donald Sutherland, filmmaker Agnès Varda, director Charles Burnett and cinematographer Owen Roizman. Oscar-winning director Alejandro G. Iñárritu received a special award for his virtual reality art installation Carne y Arena about the experience of migrants crossing the U.S.-Mexico border.
After most of the celebs skipped interviews on the red carpet, they headed inside the Ray Dolby Ballroom in Hollywood to mix, mingle and campaign for Oscar nominations. Jessica Chastain chatted with her Molly's Game director Aaron Sorkin and friend Sarah Paulson. Lady Bird director Greta Gerwig made a beeline to say hello to Robert Pattinson. A publicist maneuvered a photo op with Justin Timberlake and Diane Warren.
On the other side of the ballroom, Gal Gadot, with a drink in hand, was seen laughing with her Wonder Woman director Patty Jenkins. James Franco showed something on his phone to Rita Wilson and exes Emma Stone and Andrew Garfield took some time to catch up before the Battle of the Sexes star said hello to Jennifer Lawrence and Margot Robbie with big hugs.
Allison Janney and Bradley Whitford had a West Wing reunion while Salma Hayek and Diane Kruger gushed over each other's dresses.
As for the ceremony, Angelina Jolie presented to Varda, which concluded with the two dancing on stage. Burnett received his gold statuette from Ava DuVernay. Dustin Hoffman (who found himself accused of sexual misconduct while working on the 1985 television taping of Death of Salesman) recalled his makeup tests for Tootsie before presenting to Roizman.
Sutherland was given his Oscar by Lawrence, his costar from The Hunger Games franchise. "I have to tell you that I have been beset by my mine's unrelenting interrogation of me, demanding if I deserve this," Sutherland said, adding that he "finally found peace" from a quote by Jack Benny: "What he said, as I say to you now, 'I don't deserve this, but I have arthritis and I don't deserve that either.'"
The evening's only outright political moment came when Iñárritu, who hails from Mexico, urged lawmakers to meet face-to-face with any of the 800,000 recipients of the Deferred Action for Childhood Arrivals program whose fate is currently in limbo. "I am sure that if they do and see their reality firsthand, they will understand them," the Revenant director said. "And if they understand them, they will love them."
He dedicated his award to "all the immigrants from Mexico, Central America, Asia, Africa and all corners of the world whose reality has been ignored and held hostage by ideologies and definitions, denying them the possibility of being understood and loved."
The evening marked new Academy President John Bailey's first major public appearance before such a large number of the organization's membership. "This is the Academy's 90th year and it reminds me that these awards honor filmmakers who have touched us beyond measure for decades," he said. "We do these awards for them, yes, but as well for those who will inherit their visions — today's emerging talents, some of who we meet in the Academy's outreach and intern programs and some not yet born, future filmmakers who will become the next Burnett, Roizman, Varda, Sutherland and Iñárritu."
Steven Spielberg offered a toast before the program took an hour-long break for the dinner service. "Tonight, we all aspire to reach higher," he said. "We all aspire to dream bigger tonight — to be greater."
Let's just hope none of those dreams will turn into nightmares.