Mic Wakeup: Republicans against Roy Moore, brands against Hannity, Russians against George Takei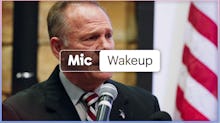 If you spent your Sunday disconnected from the news, who could blame you? But now it's Monday, Nov. 13, and you're scrambling to make sense of all the big stories you missed. We've got you covered.
Republicans against Roy Moore
On Thursday, the Washington Post broke a major story alleging theocratic (to put it mildly) Republican Senate candidate Roy Moore molested a 14-year-old girl when Moore was a 32-year-old assistant district attorney. But as Moore vehemently denies the allegations, many Republicans are denying Moore. Here's a running list of GOP members who are turning their back on the candidate so far. There are tons.
Brands against Hannity
Fox News host Sean Hannity is facing blowback from advertisers following his shows' controversial coverage of Moore, whose alleged behavior with teens Hannity defended. Now, in a backlash that may look very familiar to some, brands are pulling their advertisements from the host's program. Here's a running list of every company that won't run ads on Hannity.
Russian bots against George Takei
On Friday, the Hollywood Reporter published a story in which model Scott Brunton accused Star Trek actor George Takei of sexually assaulting him when Brunton was 23. Takei immediately denied Brunton's accusations, and on Sunday, laid blame for the spread of the story on an unlikely culprit: Russian bots. Oh my, indeed.
(Editor's note: Mic pays a promotion network that uses celebrities, including George Takei, to promote stories across social media platforms. Since the allegations against Takei surfaced, Mic has suspended this relationship. Takei's social media will no longer be used to promote Mic content.)