Hype List: What to check out this week, including 'Mudbound,' Mavis Staples and Joe Biden's new book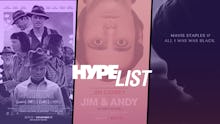 Welcome to the Hype List, a weekly recommendation series in which columnist Tirhakah Love highlights all of the pop culture happenings — movies, music, television, books and more — you need to know about.
Music: If All I Was Was Black by Mavis Staples
Since the 1960s, Mavis Staples' low tenor has been a central force in both soul music and civil rights activism. With politics as ridiculous as they are nowadays, her voice — which recently appeared on songs by Gorillaz and Arcade Fire — continues to resonate. On her 16th studio album, If All I Was Was Black, Wilco frontman Jeff Tweedy — a regular collaborator, who wrote and produced all 10 songs on the record — helps Staples grapple with some of the issues currently plaguing America.
On the lead single, "Build a Bridge," the singer suggests that in order to overcome political divides, people need to acknowledge differences in power and privilege. "When I say my life matters/ You can say yours does too/ But I betcha never have to remind anyone/ To look at it from your point of view." The song plays like a modern-day history lesson set to music, delivered by one of the greats.
If All I Was Was Black will be released Friday via Anti- Records.
Movie: Jim & Andy: The Great Beyond
Jim Carrey went deeply method for 1999's Man on the Moon, in which he portrayed one of his heroes, Andy Kaufman. In this Netflix documentary, Carrey and Man on the Moon's production team detail the lengths the comedy superstar went — and the high stress he inflicted on everyone around him — to capture Kaufman's essence.
Collecting interviews with the cast and crew as well as never-before-seen backstage footage, which Carrey says the studio never wanted to release out of fear people would think he was "an asshole," the new doc shows how Carrey was taken over by Kaufman's confrontational persona, losing himself inside the role of the iconic performance artist. Now, nearly 20 years later, a bearded and graying Carrey opens up about the impact that making Man on the Moon had on him in what's sure to be an engrossing study of the creative process, fame and the danger of emulating your idol.
Jim & Andy: The Great Beyond will be released Friday on Netflix.
Music: Low in High School by Morrissey
Fresh off a headlining performance at the Hollywood Bowl and corresponding "Morrissey Day" in Los Angeles, the English rock royal is back with his 11th solo album. Dubbed Low in High School, the new LP reunites the crooner with producer Joe Chiccarelli and will be released under Moz's own imprint, Etienne, with BMG handling distribution.
Before he signed his current label deal, Morrissey despaired over the state of the music industry, describing it in 2016 as "severely controlled and monitored to make sure that any singer with a political message cannot get through." Well, that hasn't stopped the 58-year-old from railing against the media on his recent single "Spent the Day in Bed," in which he urges, "Stop watching the news/ Because the news contrives to frighten you." Despite that song's defeatist title, we're expecting Morrissey to be plenty motivated on his latest full-length.
Low in High School will be released Friday via BMG and Etienne.
TV: The Punisher
Netflix's network of street-level Marvel shows expands further with this solo series centered on Frank Castle, aka The Punisher. Jon Bernthal stars as the gun-toting vigilante, who avenged his murdered family in season two of Daredevil by eliminating the people responsible. But his work isn't done yet — in this spinoff, Castle learns that the massacre is tied to a governmental conspiracy dating back to his time in the military.
Yes, the Punisher is just the latest damaged anti-hero anchoring an hourlong TV drama, but Netflix's Marvel Cinematic Universe shows have a strong track record so far (save for Iron Fist), so the streaming service has earned the benefit of the doubt. Besides, this show's beating heart doesn't belong to the violence Castle doles out; it's more about the cost of his actions. Is he worthy of redemption? That's for us to decide.
The Punisher will be released Friday on Netflix.
Book: Promise Me, Dad: A Year of Hope, Hardship and Purpose by Joe Biden
For Joe Biden, the year 2015 was one of the most difficult in recent memory. He faced no shortage of challenges and life-altering moments: handling his duties as vice president around the world and in Washington, D.C.; weighing whether he'd run for president in 2016; and, of course, the tragic death of his son Beau. He recounts it all in this tearful, year-long memoir that, miraculously, is still suffused with Biden's uplifting outlook. It's a brief, yet winding, story touching on family, politics and the force of love — all subjects Biden is more than qualified to speak on.
Promise Me, Dad: A Year of Hope, Hardship and Purpose will be released Tuesday via Flatiron Books.
Movie: Mudbound
Mudbound offers a grounded look at the Jim Crow South through the lives of two families — one white, one black. The new Netflix joint, directed by Pariah auteur Dee Rees, is set in 1940s Mississippi and follows a cast of characters (Carey Mulligan, Jason Clarke and Mary J. Blige are among the players) who deal with racial segregation, class negligence and the fallout from World War II. But Rees isn't in the business of creating anachronistically progressive white characters in order to curry sympathy. Instead, she builds a narrative marked by a natural realism that's already earned fawning reviews. Mudbound looks to be one of Netflix's best films yet, and might have some Oscar gold in its future.
Mudbound will be released Friday on Netflix.