Bitcoin and Bitcoin Cash Price Explained: Why cryptocurrencies just crashed and rallied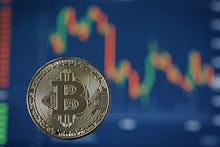 The cryptocurrency bitcoin had a tumultuous weekend as investors appeared to move their money into bitcoin cash, a rival "fork-coin" started by early bitcoin proponents who pushed to give the digital currency an upgrade. At one point on Saturday, the market value for bitcoin cash briefly overtook that of ethereum, an older cryptocurrency.
Ethereum's founder Vitalik Buterin congratulated the bitcoin cash founders on Twitter for the breakthrough. But the milestone was short-lived: As of Monday at 12:30 p.m. Eastern, prices for bitcoin cash had pulled back about 10% over the previous 24 hours, according to CoinMarketCap. Regular bitcoin had recovered — to about $6,500 per coin — after falling 29% from its all time high.
One reason for the price swings? It began with a longstanding disagreement about how to upgrade bitcoin's capacity as it gets more popular. The cost of moving coins from one address to another has risen to an average of nearly $20 per transaction and proponents worry that the failure to upgrade bitcoin's capacity is keeping it from gaining widespread use as an actual currency.
Back in August, a group of early proponents of bitcoin started their own offshoot called bitcoin cash to address the problem. Last Wednesday, a plan to introduce a similar protocol upgrade, known as SegWit2x, for bitcoin fell through, which precipitated a weekend of frantic trading.
Prices had stabilized by Monday, but as Bloomberg columnist Lionel Laurent put it, the plunge itself revealed what might be cryptocurrency's "fundamental flaw." The selling point of blockchain, the underlying technology for bitcoin and other cryptocurrencies, is that it's supposed to be decentralized, meaning that it isn't necessarily under the control of any one entity.
Decentralized currencies are attractive to those concerned about digital privacy — or currency devaluations in emerging markets — which can reduce the value of actual cash, but cryptocurrencies do present a bit of a problem when decisions need to be made about the currency's future.
Without clear leadership, issues that would be a matter of routine — for example, upgrading bitcoin's capacity as it gets bigger — create potential for disagreement and infighting. Bitcoin developer Andreas Antonopoulos suggested that proponents of rival cryptocurrencies were more focused on undermining each other than developing their own projects.
The political disagreements are unfortunate, because they come at a time when establishment institutions and Wall Street banks are beginning to get more comfortable with bitcoin.
Goldman Sachs has expressed interest in setting up some sort of trading desk for digital currencies, and one of the world's largest derivatives companies announced they were setting up a special desk to trade bitcoin futures as well. The hope was that the addition of more big players could help bring more money to digital currencies — known as liquidity — which would help keep the prices more stable over time.
Want to learn more about bitcoin? Check out our guide to doing your homework before you invest in cryptocurrency.
Sign up for the Payoff — your weekly crash course on how to live your best financial life.