Trump laughs as murderous Filipino leader Duterte shuts down reporters' questions about human rights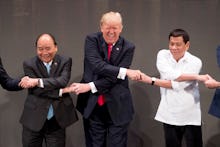 President Donald Trump on Monday refused to condemn Filipino President Rodrigo Duterte's extrajudicial killings of drug users in his country, and instead allowed Duterte to shut down questions from reporters about his human rights record.
Duterte called reporters "spies" for trying to ask about whether the topic of human rights would come up during the two leaders' bilateral meeting during the Association of Southeast Asian Nations Summit — the final major event on Trump's 12-day trip across Asia.
And Trump didn't suggest he would bring up the issue of human rights abuses with Duterte, and instead highlighted his good relationship with the leader and praised the weather in the Philippines.
"The ASEAN conference has been handled beautifully by the President in the Philippines and your representatives," Trump said. "And I've really enjoyed being here. The weather is always good. Today it's pretty good. But one thing about the Philippines — eventually it gets good, no matter what."
It's also unclear whether Trump actually brought up the issue of human rights during his meeting with Duterte.
White House press secretary Sarah Huckabee Sanders said, "human rights briefly came up," in the two leaders' discussions, according to CBS' Mark Knoller.
But a spokesperson for Duterte denies that the topic was discussed, telling the Associated Press that there "was no mention of human rights."
Trump has praised Duterte's handling of his country's drug problem in the past, according to leaked a transcript of a phone call Trump had with Duterte during the early days of his presidency.
"I just wanted to congratulate you because I am hearing of the unbelievable job on the drug problem," Trump told Duterte in an April phone call, according to a leaked transcript of the call obtained by the Washington Post. "Many countries have the problem, we have a problem, but what a great job you are doing and I just wanted to call and tell you that."
Duterte has bragged in the past of personally killing suspected criminals in his country, and even compared himself to Adolf Hitler, who was behind the slaughter of millions of Jews during the Holocaust.