History-making hijabi Olympian Ibtihaj Muhammad is getting her own Barbie doll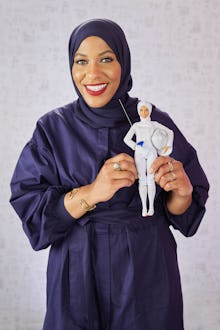 At Glamour's Women of the Year Summit on Monday, fencer Ibtihaj Muhammad — who made history in 2016 as the first Muslim-American woman to wear a hijab while competing for the U.S. Olympics team — was officially deemed a "shero," with Mattel creating a one-of-a-kind Barbie doll in her likeness.
"I grew up playing with Barbies, so being honored with my own Barbie doll that looks like me has definitely been a 'pinch me' moment," Muhammad said in an exclusive statement to Mic. "Because I know the power of playing out your dreams through play, I'm excited that my doll will inspire girls who may have never seen themselves represented before in sports, media or the toy aisle."
Previous women honored by Matte's Sheroes collection include Gabby Douglas, Ava DuVernay, Misty Copeland and Ashley Graham, who awarded Muhammad's doll to her on Monday.
In a release, Barbie's vice president of global marketing, Sejal Shah Miller, highlighted what specifically makes Muhammad qualify as a "shero."
"Barbie is celebrating Ibtihaj not only for her accolades as an Olympian, but for embracing what makes her stand out," Miller said. "Ibtihaj is an inspiration to countless girls who never saw themselves represented, and by honoring her story, we hope this doll reminds them that they can be and do anything."
Muhammad's doll marks a historic moment for Mattel, too, with the company never having created a doll that wears a hijab before. Previously, there was the popular Instagram account — @Hijarbie — which styles the dolls modestly, but that's it.
"It's important to create a sense of value in the Muslim child, especially the girl child," @Hijarbie founder Haneefah Adam told Mic in 2016. "They become more confident, more driven, they believe more in themselves, which leads to an appreciation of herself and her modest lifestyle and upbringing. Instead of dressing up her dolls in clothes she wouldn't wear, hijabifying it will create a sense of belonging and hopefully make a positive impact."
With Muhammad's doll, which will be available for purchase in 2018, that's hopefully exactly what will happen.