In 'Howard Stern' interview, George Takei seemed to describe groping men without their consent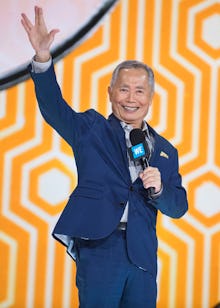 At an October appearance on the Howard Stern Show, Star Trek actor George Takei discussed the sexual assault allegations against disgraced Hollywood producer Harvey Weinstein and President Donald Trump. But when the interview abruptly turned to Takei's own sexual conduct, the actor, an outspoken critic of the president's comportment, seemed to fluster hosts Howard Stern and Robin Quivers.
"Did you ever grab anybody by the cock against their will?" Stern asked Takei, referencing the recording of Trump boasting about grabbing women by their genitals.
After a very long pause, Takei answers: "Uh oh."
Takei attempts to play it off as a joke, but the host presses on.
"Some people that are kind of skittish, or maybe afraid, and you're trying to persuade," Takei says after a big laugh.
"Do we need to call the police?" Stern says.
"What is he saying, Howard?" Quivers asks with audible exasperation.
Takei attempted to differentiate between his own behavior and the allegations against Weinstein by emphasizing that, at least according to him, his conduct never took place in a professional setting, nor did he ever take advantage of a power dynamic.
"What are you saying, George? You never held a job over someone?" Stern asks.
"No, no. I never did that. That's what this [Weinstein scandal] is all about. It's not about sex, it's about power. It's about power," Takei says.
"But you didn't do this grabbing at work?" Quivers asks.
"No, it wasn't at work. It was either in my home, he came to my home." Takei answers.
"What do you mean, you mean some guy who was hesitating to have sex with you and you gave him a gentle squeeze on the balls?" Stern asks.
"More than gentle," Takei answers, laughing. "But it didn't involve power."
Jezebel reported that the Takei-Stern-Quivers interview has been making the rounds in the wake of a recent allegation against the Star Trek actor. On Friday, the Hollywood Reporter published a sexual misconduct claim against Takei that appears to be similar to what the actor described to the hosts.
Here is what model Scott Brunton told the Hollywood Reporter about his alleged encounter with Takei in 1981.
The next thing I remember I was coming to and he had my pants down around my ankles and he was groping my crotch and trying to get my underwear off and feeling me up at the same time, trying to get his hands down my underwear. ... I came to and said, 'What are you doing?!' I said, 'I don't want to do this.' He goes, 'You need to relax. I am just trying to make you comfortable. Get comfortable.' And I said, 'No. I don't want to do this.' And I pushed him off and he said, 'OK, fine.' And I said I am going to go and he said, 'If you feel you must. You're in no condition to drive.' I said, 'I don't care I want to go.' So I managed to get my pants up and compose myself and I was just shocked. I walked out and went to my car until I felt well enough to drive home, and that was that.
Takei vehemently denied Brunton's claim, stating that he was "shocked and bewildered" by the allegation.
"Right now it is a he said/he said situation, over alleged events nearly 40 years ago," Takei tweeted. "But those that know me understand that nonconsensual acts are so antithetical to my values and my practices, the very idea that someone would accuse me of this is quite personally painful."
In a now-deleted tweet, a defiant Takei blamed Russia for spreading the accusation against him.
(Editor's note: Mic pays a promotion network that uses celebrities, including George Takei, to promote stories across social media platforms. Since the allegations against Takei surfaced, Mic has suspended this relationship. Takei's social media will no longer be used to promote Mic content.)