The Jake Paul/Martinez Twins YouTube bullying scandal, explained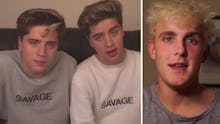 It may not shock you to learn that the YouTuber Jake Paul, who's gotten famous for "pranking" people by physically injuring them and has been accused of turning his Los Angeles neighborhood into a "living hell," also seems to be a pretty terrible roommate.
In a video published Nov. 10, Ivan and Emilio Martinez, better known as "the Martinez twins" on YouTube, announced they are parting ways with Paul and Team 10 — the name of Paul's supergroup of social media personalities — accusing Paul of bullying them on a daily basis.
If you're not familiar, Paul is one of those nebulously defined internet "influencers" with tens of millions of followers across his various social media accounts. He got his start on the now-defunct video platform Vine for yelling and other public buffoonery, but now he mostly publishes YouTube videos in which he screams or pours ice water on sunbathing women or prevents people leaving their bathroom by pouring thousands of thumb tacks outside the door.
Neighbors of Paul's home in L.A., which has become a mecca-like destination for his fans, have considered filing a lawsuit against him for his various stunts, like setting piles of furniture on fire in the home's backyard.
Needless to say, Paul's reputation isn't one for peace or empathy. Which brings us back to the Martinez twins.
In their video, the twins — both of whom are wearing their own branded sweatshirts emblazoned with the word "SAVAGE," in all caps — explained over somber, tinkly piano music that when Paul invited them to move to the Team 10 house in Los Angeles, it seemed like a dream come true.
"When we met Jake, he was so fucking cool," Ivan said. "The house was big, everything was cool, he was so, so, so nice to us."
But the bliss was short-lived, apparently. They went on to say that Paul began treating them abusively and that other people in the house had a habit of taking advantage of their limited understanding of English to make fun of them.
Imagine "that you go to somewhere that nobody talks Spanish or your language, and you see people in the house laughing, and you don't know what they're talking about," Emilio, who moved to Los Angeles from Spain with Ivan, said in the video. "And then you find out they were talking bullshit about you, they're laughing about you."
The twins also allege that Paul had a habit of waking them up on a daily basis in jarring, unpleasant ways, such that it affected their ability to live normally.
"I went to sleep scared, like how?" Ivan said in their break-up announcement video. "Eight months in one house, going to sleep scared because I didn't know how I was about to wake up."
In videos posted by the YouTube account "TRENDING WW," you can see some of the behavior that the Martinezes described.
In the first clip, Paul wakes up the twins by pouring water on them from a large bucket.
"Oh, did I mess up the laptop?" Paul says while someone in the background carefully lifts a dripping Macbook off the slick, wet floor. "That's fine."
In other clips, Paul wakes up the twins with airhorns pointed at their faces. In another, he uses a vacuum applied to their bed linens. In another, he shocks one of the twins with a taser.
"Good morning, party people," Paul says in one clip, setting off a small confetti popper to wake one of the twins up. "And welcome to another day of partying."
In the videos, the twins don't seem to outwardly react too strongly to Paul's various wake-up calls, except for one instance where Paul can be seen piloting a small, remote controlled drone near their sleeping bodies. One of the Martinez twins wakes up, snatches the drone mid-air and slams it to the ground.
"Chill bro — oh it's still going," Paul says, continuing to fly the drone.
Sunday, Team 10's Twitter account denied the accusations leveled against them.
"What they said in the video simply isn't true," the Twitter statement said. "If they had ever said anything, we would've addressed the problem like a real family does."
Paul himself has also tweeted several times in response. In one tweet, Paul linked to one of Ivan's tweets from early September, in which he shows a screenshot of affectionate text messages exchanged between them. Accompanying the link to Ivan's old tweet are two emojis: one with its mouth zipped shut, and the thinking face.
In another tweet, Paul said that he promises, "on my life that I've been publicly backstabbed and betrayed more than any person I've ever met. Hate 2 play 'victim' & b soft but It is crazy 2 me. I just want 2 change peoples lives 4 the best. The truth always comes out & the great always shine through the lies."
Paul's follow-up tweet then said that he has historically stayed silent "2 protect others & keep them out of jail & 2 stay out of negativity," but that he's going to start being a "a little more vocal from now on. Done being painted as the bad guy."
In yet another follow-up tweet, Paul, who once climbed on top of a KTLA news truck while they were interviewing him, asked Ivan to stop being "immature."
"Talk to me like a man in person," Paul tweeted. "We can fix this. Videos won't fix anything. Do you just want attention?!"
And thus the countdown to yet another reaction video from someone involved in this debacle, which will likely garner millions of views, begins.
Boys are bad. YouTube is bad. Everyone is bad. Good day.