Trump nominates Alex Azar, a former pharmecutical executive, as HHS secretary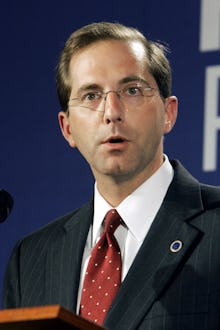 President Donald Trump on Monday announced that he's nominating Alex Azar, a former executive at the pharmaceutical company Eli Lilly, as secretary of health and human services.
If confirmed, Azar would replace Tom Price, who resigned in scandal back in October after it was revealed he spent hundreds of thousands of dollars on private jet travel, despite cheaper commercial travel options.
"Happy to announce, I am nominating Alex Azar to be the next HHS secretary," Trump tweeted Monday morning. "He will be a star for better healthcare and lower drug prices!"
As HHS secretary, Azar would be in charge of helping craft United States health care policy, as well as overseeing the major social programs Medicare, Medicaid and the Affordable Care Act's individual insurance marketplace.
Azar is against the ACA's Medicaid expansion, which has provided coverage to millions of Americans and which Republicans tried and failed to replace multiple times this year.
"I would have much preferred that if we were expanding care to those unable to afford health care that we would have chosen vehicles that actually harness the private sector," Azar told the Zetema Project, which seeks to create a conversation around U.S. health care policy.
Azar also supports turning Medicaid into a block grant — which the failed Graham-Cassidy health care plan would have done. Block granting Medicaid would cause millions of low income Americans to lose health insurance, the non-partisan Congressional Budget Office said back in September.
"I think there's a lot to commend about a block grand approach, because the states are the laboratory for experimentation," Azar told the Zetema Project.
Trump selected Azar, despite tough talk against drug companies such as the one Azar worked for.
Trump has said that drug prices are"out of control" and that drug companies are "getting away with murder."