Roy Moore threatens to sue 'Washington Post' over report alleging he molested a 14-year-old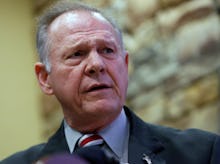 U.S. Senate candidate Roy Moore has threatened to sue the Washington Post over its report alleging the Alabama Republican had sexual contact with a 14-year-old girl nearly four decades ago.
Speaking to a crowd of supporters at a gym in Huntsville, Alabama, on Sunday night, Moore called the story, which has ignited a political firestorm surrounding his bid to win a special Senate election, "fake news" and "a desperate attempt to stop my political campaign."
"Why would they come now? Because there are groups that don't want me in the U.S. Senate," Moore said, referring to both the Democratic Party and establishment Republicans Moore claimed are united in their attempts to derail his candidacy.
"We do not plan to let anybody deter us from this race," Moore added.
With less than a month until the Alabama election, Moore's support is down from the 50% he held over Democratic rival Doug Jones in September to just 45%, according to a new poll released by Opinion Savvy.
According to the Post's report — which quoted four women by name — Moore, who was in his early 30s at the time, molested Leigh Corfman when she was just 14 and also made advances toward three others when they were between the ages of 16 and 18.
While Moore continues to steadfastly deny the allegations, the report has spurred a flurry of anxieties among Republicans, many of whom have publicly urged Moore to drop out of the race.
"You know, this is a terrible situation, nearly 40-year-old allegation, we'll probably never know for sure exactly what happened," Pennsylvania Republican Pat Toomey said on NBC's Meet the Press. "But from my point of view, I think the accusations have more credibility than the denial. I think it would be best if Roy would just step aside."
But an undeterred Moore has attempted to parlay the controversy into a fundraising opportunity for his campaign, calling for supporters in an email to donate funds to help him combat the so-called "vicious and sleazy attacks" against him that are "growing more vicious by the minute."
"I'm counting on you to stand with me at this critical moment by chipping in a donation to help me bust through the vicious lies and attacks and get the truth out to as many voters as possible before Dec. 12," Moore wrote.