Sean Hannity is no stranger to controversy — but his high ratings mean he's not going anywhere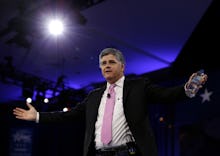 Advertisers have been dropping Sean Hannity following the Fox News anchor's recent defense of Roy Moore in the wake of a Washington Post report alleging the Alabama Senate candidate molested a 14-year-old girl.
Hannity has stood by Moore in the wake of the allegations, decrying them as a "political attack," suggesting Moore's relations with teenage girls were "consensual" and inviting Moore to appear on his radio show Friday. As a result of the backlash against his comments, advertisers such as Keurig and E*Trade have pulled their sponsorship of the Fox News program.
While Hannity is no stranger to controversy, he and his Fox News program are still going strong. The anchor has enjoyed consistently high ratings: Hannity had 3.2 million total viewers in October, earning the highest ratings in cable news and regularly beating competitor Rachel Maddow since their programs began airing head-to-head. The October numbers continue a running trend; Hannity's viewership increased by 47% between Dec. 26, 2016, and March 26, according to Nielsen data cited by Variety.
The pundit has faced controversy throughout his tenure at Fox News. For example, he was forced to apologize in 2009 after Jon Stewart pointed out that Hannity tried to lie about the attendance at an anti-health-care-reform rally by using footage from an entirely different protest.
But the anchor's pattern of false statements and controversies hasn't gone away now that he has an ally in the White House. Throughout the 2016 election and Donald Trump's presidency, Hannity has repeatedly found himself in hot water — but unlike former colleagues Bill O'Reilly and Roger Ailes, his career at Fox News hasn't taken a hit.
Here are some of the recent controversies and problems that Hannity's faced.
Seth Rich
The largest controversy Hannity has faced in recent memory was his perpetuation of unfounded conspiracy theories that suggested Democratic National Committee staffer Seth Rich provided DNC emails to WikiLeaks prior to his death in July 2016, that he was killed because of it and that Washington police engaged in an elaborate coverup to protect the murderers.
Hannity became the theory's key spokesman and said he would continue to investigate Rich's murder even after being asked by the late staffer's family to stop discussing it.
The anchor took a "vacation" amid the resulting controversy; it was also revealed he would no longer receive the Media Research Center's William F. Buckley Award for Media Excellence. Hannity lost several advertisers, and Media Matters later reported that Fox News' advertising revenue declined in the wake of the Rich controversy.
The controversy, however, was not enough to take Hannity down for good. The New York Times noted the advertisers' exodus paled in comparison to the one that brought down Bill O'Reilly, as many advertisers said they didn't want to pull advertising based on political viewpoints as opposed to claims of serial sexual harassment against O'Reilly.
Other conspiracy theories
Though Hannity's comments about Rich garnered the most attention, they're far from the only false conspiracy theories the Fox News anchor has peddled.
Hannity, for instance, was again forced to apologize in November 2016 after repeating a fake news story alleging former first lady Michelle Obama, former President Barack Obama and Sen. Elizabeth Warren (D-Mass.) had scrubbed their social media accounts of Hillary Clinton endorsements in the run-up to the 2016 election.
The anchor has repeatedly pushed stories even after Fox News has been forced to retract them, Media Matters reported. A lengthy list of conspiracy theories Hannity has publicly discussed, compiled by Media Matters, includes perpetuating birther rumors about Barack Obama, claiming he was leading a "shadow government" against President Donald Trump and speculating that an episode of Law & Order: Special Victims Unit was part of a mainstream media plot to "utterly destroy" Trump.
More recently, Hannity has alleged on his radio show that the anti-racist protesters in Charlottesville, Virginia, were paid actors, and repeated an unfounded conspiracy theory claiming multiple people were involved in the shooting at a country music festival in Las Vegas.
Conflicts of interest
While Hannity has wavered on whether he classifies himself as a journalist or partisan pundit, the Fox News anchor has committed some notable conflicts of interest when it comes to his association with the Republican Party.
Hannity has strong ties to Trump; a New York Times report in April even described him as an "adviser" to Trump. Hannity hit back at the idea, accusing the Times of "surveilling and unmasking" him in conjunction with the NSA.
Hannity's relationship with the future president became embroiled in controversy during the 2016 election when he appeared in a promotional video for the Trump campaign. Fox News reportedly did not approve the appearance; in a statement to the Washington Post, a spokesman said: "We had no knowledge that Sean Hannity was participating in this, and he will not be doing anything along these lines for the remainder of the election."
Hannity also reportedly paid for Newt Gingrich to fly on a private jet to a meeting with Trump, when Gingrich was under consideration to be the then-nominee's vice presidential pick. The act, CNN reported at the time, "may be viewed as a conflict of interest," though Hannity has "long argued that he is not subject to journalistic ethics because he is a pundit."
His political advocacy dates back to before the 2016 campaign. In 2014, Hannity helped to promote fundraising efforts for the Tea Party Patriots — who serve as a sponsor for his radio show — through his radio show, Fox News program and fundraising emails. In 2010, Fox News barred Hannity from taping an episode of his program at an event for the Cincinnati Tea Party, in which all proceeds would benefit the Republican group.
Sexual harassment
While Hannity hasn't faced the same barrage of sexual harassment allegations as his former colleagues, he came under scrutiny when he was accused of inappropriate sexual behavior in April by right-wing blogger Debbie Schlussel.
Schlussel accused Hannity of being guilty of a "pattern of creepy and inappropriate behavior," including asking her to come back to his hotel room — and blacklisting her from Fox News when she refused — and once being "furious" when she appeared on his show with dyed red hair.
"I am a fake blonde and he got really upset," Schlussel said, according to NBC News. "Then he started arguing with me about my pants size. I said they were size 2, and he said they were a 4. It was just creepy. I mean, who does that?"
In addition, Hannity has come under scrutiny for his continued involvement with accused serial harasser Bill O'Reilly. Media Matters reported on Nov. 1 that O'Reilly and Hannity have made five joint appearances on Hannity's show since O'Reilly was fired from Fox News in April — a move that Hannity said made O'Reilly simply the "latest victim" of a campaign by progressives aimed at forcing conservatives off the air. O'Reilly's firing came after reports emerged that he and Fox News had paid $13 million to silence multiple women who claim O'Reilly sexually harassed them.
O'Reilly has praised Hannity in the wake of the Seth Rich scandal, telling Newsmax host John Bachman that Hannity "fought back" against the controversy while O'Reilly did not.
"Hannity knows they're looking to get him, but I admire Sean and how he handled the situation," O'Reilly said, according to the Hill.