The photographer behind Lupita Nyong'o's edited cover speaks: "There is no excuse for my actions"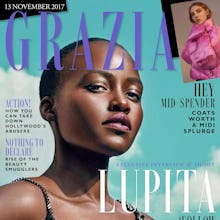 On Thursday, Lupita Nyong'o joined women like Solange who are taking magazines to task when they edit their hair without their permission.
Upon seeing her hair edited on the cover of Grazia U.K., Nyong'o spoke out, posted the before-and-after cover images, and said that the editing was an effort to make her hair fit into a more "Eurocentric notion of what beautiful hair looks like."
Soon after Nyong'o's own post, Grazia released a statement of its own, noting that it had nothing to do with the editing, and it was all the photographer.
Now the magazine cover's photographer, An Le, has spoken out. In a statement given to multiple outlets, including the Guardian, Le is admitting to the editing and apologizing to Nyong'o.
"I've had some time to reflect on my part in the incident involving Grazia and Ms. Nyong'o," Le wrote. "I realize now what an incredibly monumental mistake I have made and I would like to take this time to apologize to Ms. Nyong'o and everyone else that I did offend."
"Though it was not my intention to hurt anyone, I can see now that altering the image of her hair was an unbelievably damaging and hurtful act," Le continued. "As an immigrant myself, it is my duty to be an advocate for the representation of diversity of beauty in this industry. I will demonstrate this in my work even more going forward."
When Nyong'o spoke out, she herself noted that the image being edited felt like a dig to her own heritage and appearance.
"With every fiber of my being, I embrace my natural heritage and despite having grown up thinking light skin and straight, silky hair were the standards of beauty, I now know that my dark skin and kinky, coily hair are beautiful too," Nyong'o wrote on Instagram. "Being featured on the cover of a magazine fulfills me as it is an opportunity to show other dark, kinky-haired people, and particularly our children, that they are beautiful just the way they are."
In conclusion, Le, who's photographed Vogue covers and Balmain campaigns, wrote that there is no excuse for what he did.
"There is no excuse for my actions. I deeply regret the pain I've caused Ms. Nyong'o, a woman I've admired for quite some time now," Le wrote. "Again, I would like to say I'm deeply sorry to everyone I did offend. I want to thank Lupita for addressing this important issue."