Study shows bystanders are less likely to give a woman CPR in an emergency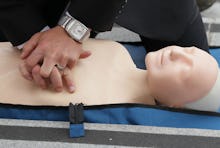 A new study has found a gender gap in a somewhat surprising field: Bystanders were less likely to give a woman CPR than a man — and women were less likely to survive.
The research, published in November and funded in part by the National Institutes of Health and the American Heart Association, analyzed nearly 20,000 instances of sudden cardiac arrest.
The results showed that when someone was in need of CPR in public, 45% of men received CPR from a bystander compared to just 39% of women. Men were also 23% more likely to survive the events.
What's driving the disparity? Audrey Blewer, the study's lead author and a doctoral candidate at the University of Pennsylvania's Perelman School of Medicine, said one reason for the findings might be the biases in training materials used to teach CPR — the practice dummies are usually male torsos, according to the Associated Press.
Blewer also pointed to bystanders' reluctance to apply the force necessary for CPR to women's bodies. "It can be kind of daunting thinking about pushing hard and fast on the center of a woman's chest," Blewer said.
Fellow study author Dr. Benjamin Abella, a professor of emergency medicine at the University of Pennsylvania's Perelman School of Medicine who specializes in sudden cardiac arrest, said bystanders might hesitate to perform CPR on a woman because they're reluctant to move a woman's clothing or touch her breasts, according to the AP.
However, none of that is actually necessary, Abella said, as performing CPR correctly "shouldn't entail" moving anyone's clothes or touching anyone's breasts.
"You put your hands on the sternum, which is the middle of the chest. In theory, you're touching in between the breasts," Abella said, adding, "This is not a time to be squeamish because it's a life-and-death situation."