Andrew Garfield on Hollywood's abuses of power: I've been threatened with physical violence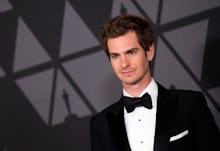 Los Angeles — Hollywood's most powerful have been put on notice.
For the first time in the history of this town, men are being held accountable for their horrid behaviors. "I pray that this is the start of a massive sea change," Andrew Garfield told me at the Academy of Motion Picture Arts and Sciences' Governors Awards on Saturday. "It feels like these abuses of power will not continue."
Abuses of power come in many different forms. While Garfield said he has never experienced sexual harassment, the Oscar nominee has been the target of unacceptable and potentially violent power plays.
"I've been on the receiving end of abuses of power," he said. "There have been a couple of physical threats of violence. I've had a couple of those experiences."
Garfield was quick to point out that he is in no way comparing his experience to those of the victims of alleged sexual predators like Harvey Weinstein and Kevin Spacey.
"It's kind of impossible to go into right now [on a red carpet], but all I could do was stand my ground and say no as strongly as I possibly could and avoid situations that could have ended up really, really badly for everyone involved," said the Breathe actor, who was one of the few stars who talked to the press Saturday night. Most posed for pictures before bolting into the Ray Dolby Ballroom in Hollywood.
For all of his fame, fortune and accolades, the 34-year-old Garfield has remained grounded. In fact, walking into events like the Governors Awards isn't always easy.
"I have to talk to myself before going in and say, 'You know, it's OK — you deserve to be here,'" he said. "It's like doing self-affirmations in the mirror. But I wonder if anyone feels deserving to be here. I think it's such an impossible idea, this idea of what Hollywood is — even though Hollywood has been massively tarnished by these abuses of power and awful sexual misconduct — I think that's why people fall constantly. We're reaching toward something that is impossible to sustain. I just think it's very human to feel a sense of non-belonging. Luckily, I get to hang out with people who also feel that and we get to laugh at ourselves as much as possible."
Garfield is getting ready for a move to New York City, where he will star in a revival of Angels in America following a sold-out run of the production earlier in 2017 in London. Previews begin Feb. 23 before it officially opens on March 21.