Fifth woman accuses Alabama Senate candidate Roy Moore of sexual misconduct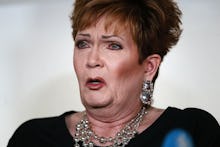 At a press conference Monday, noted civil rights attorney Gloria Allred introduced Beverly Young Nelson, the fifth woman to come forward with an accusation of sexual misconduct against Roy Moore, the Republican nominee for the open Alabama Senate seat.
In a tearful statement, Nelson — who said she voted for Donald Trump — said Moore, a frequent patron of the Alabama restaurant where she worked decades ago, molested her in his car when she agreed to let him give her a ride home at the end of her shift.
"Mr. Moore reached over and began groping me, putting his hands on my breast," Nelson said Monday of Moore, who was an assistant district attorney at the time. "I tried to open my car door to leave, but he reached over and locked it so I could not get out. I tried fighting him off ... but instead of stopping, he began squeezing my neck, attempting to force my head onto his crotch ... I was terrified."
According to Nelson, Moore told her nobody would believe her account of the incident because of his standing in the community.
"You are a child," Nelson alleged Moore told her. "I am the district attorney of Etowah County. If you tell anyone about this, no one will believe you."
In an apparent attempt to give credence to Nelson's testimony, at the end of her statement, Allred brought forward what she said was Nelson's high school yearbook, and showed the press what she claimed was Moore's signature in it. Journalist Josh Barro pointed out the similarity between the alleged signature in the yearbook and Moore's signature on his U.S. term limits pledge.
Moore's sexual misconduct scandal was ignited by a Washington Post story Thursday alleging Moore molested a 14-year-old girl when he was in his 30s, and that he pursued romantic relationships with other teenage girls.
Nelson said she came forward to let Moore know he no longer had power over her, and she no longer lived in fear of him.
This is the latest setback in an already disastrous Monday for Moore. During a press conference earlier in Kentucky, Senate Majority Leader Mitch McConnell (R-Ky.) called on Moore to "step aside" in the race to fill U.S. Attorney General Jeff Sessions' former Senate seat. McConnell was joined by Republican Sens. Orrin Hatch of Utah and Susan Collins of Maine.
In defiance of the Republican Senate leadership, Moore tweeted that McConnell should step aside, highlighting a deep fracture between establishment Republicans and the so-called "Bannonite" wing of the party.
The Senate special election for Sessions' seat will take place Dec. 12.
Nov. 13, 2017, 5:03 p.m.: This story has been updated.