Sexual assault has been ignored by administrators at black colleges in Atlanta, students say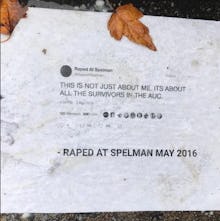 Tayler J. Mathews was told by Clark Atlanta University staff to stop wearing leggings if she wanted to prevent unwanted attention. It was 2013 and her first year as a Ph.D. candidate, and her classmate had been stalking her, touching her without consent, recording her on a cell phone and pressuring her for dates. She internalized the blame for the degradation she felt by covering her body when she was in the same class as her predator.
Mathews said she reported the incidents to the department of political science multiple times between 2013 to 2014. After not getting the help she requested, she took the issue to Clark Atlanta's Title IX coordinator at the end of 2014. In the spring of 2015, she found out the case was closed without her being notified, she said. Mathews then filed a complaint with the Department of Education at the end of that school year. She remains a student at Clark Atlanta, but she now feels betrayed by the university for its failure to protect her.
"I acquired legal counsel in 2015 because it became very clear that this was not something that was going to be resolved quickly and without a fight, which is really unfortunate," Mathews said in a phone interview with Mic. "I've had to rely on them to remind my school that Title IX is a federal law. It is civil rights that are guaranteed and you need to be recognizing these rights for your students. Unfortunately, it's still a fight to this day."
Mathews, who is studying political science, filed a lawsuit against Clark Atlanta in August. She is among several students at historically black colleges and universities in Atlanta who are speaking out against sexual harassment and rape culture on their campuses. Earlier in November, several students at the Atlanta University Center — Spelman, Morehouse and Clark Atlanta University — started using the Twitter hashtag #WeKnowWhatYouDid and other forms of resistance to call out administrators and campus police for failing to protect victims and not holding sexual predators accountable. In several interviews with Mic, students said that the administrations have been effectively sweeping the issue of sexual harassment and assault under the rug.
Across the nation, sexual assault continues to affect the quality of life of students on college campuses, yet the data proves administrators have not made adequate safe spaces for victims to seek help. While attending college, 20% of women and close to 6% of men are sexually assaulted, according to data compiled by the National Sexual Violence Resource Center. Only 10% of sexual assault victims in college report it. Meanwhile, 89% of colleges did not report a single rape in 2015, according to the American Association of University Women. These findings are extremely problematic, according to the analysis.
"Schools that report zero rapes have work to do and require additional scrutiny," writes Amy Becker, AAUW's political media manager. "When campuses disclose zero reports of rape, dating violence, domestic violence and stalking, it simply does not square with research, campus climate surveys and widespread experiences reported by students."
HBCUs are often hailed as safe spaces for students of the African diaspora, and are touted for their close-knit, familial atmosphere and black-centered curricula. Students value this environment, but these attributes mean little, several students told Mic, if administrators cannot adequately address the prevalence of sexual harassment and assault on their campuses. For survivors on HBCU campuses, the lack of support from administrations after sexual assault is an especially disappointing breach of trust.
"I have felt very betrayed by CAU because they are an HBCU, and because I have so much love for this institution," Mathews said. "Because it felt like I was going to school with my community. I was going to a school in a place where I would be protected and loved and affirmed. And that was all just taken away because I wanted help, because I wanted to stop being harassed."
In the AUC, two recent actions on campus brought the issue back to the surface. On Nov. 8, signs were posted around Spelman College, an all-women's institution, featuring a list of alleged rapists' names. Other signs read, "Morehouse protects rapists. Spelman protects rapists." The posts were taken down. Then on the morning of Nov. 9, someone spray-painted a message on the Martin Luther King Jr. international chapel on Morehouse's campus: "Practice what you preach Morehouse. End rape culture."
Morehouse, which is an all-male institution, issued an alert to students Nov. 9 stating campus police were investigating what happened at the chapel. Mic reached out to Morehouse for a comment, but the call was not returned. That same day, Morehouse College interim president Harold L. Martin Jr. addressed the actions during a previously scheduled student body meeting. Martin told students he had read the #WeKnowWhatYouDid tweets. In response, he said, the university has a commitment to "educating the young men on our campus about sexual violence [and] sexual harassment."
Martin continued, "We will encourage and protect people who feel they have been violated by any member of our campus community, encouraging them and inviting them to come forward and participate in a formal process … [and] just like I said I would with my own son or daughter, we will fully investigate it and if there is any wrongdoing [the perpetrator] will be held fully accountable."
Mic also obtained an email from Martin, which was sent to the student body on Nov. 10.
"Our support goes out to anyone who feels that he or she is a victim of abuse," he said in the email. "We hold all men of Morehouse to the highest standards of conduct. We are dedicated to their development as scholars, leaders and community servants. I know that the overwhelming majority of our students are respectful, responsible, and hard-working men of high character."
Spelman did not return requests for comment as of publishing. An e-mail sent to Spelman students Thursday morning urged victims of sexual violence to seek help from Spelman's public safety department, the Title IX and compliance office and counseling services.
"I write to remind everyone that Spelman College has a zero-tolerance policy for any type of violence, harassment or unwanted contact," wrote Spelman president Mary Schmidt Campbell. "Our hearts go out to any members of our community who have experienced incidents of violence, harassment or unwanted contact."
Anonymous Twitter accounts begin making accusations
This isn't the first time people have tweeted their frustrations about the mishandling of sexual assault accusations on HBCU campuses in the Atlanta University Center. This past week's protests come more than a year after a Twitter account called @RapedatSpelman accused four Morehouse students of rape on May 2, 2016. Two days later, on May 4, Morehouse and Spelman stated they were investigating the incident. The student wrote she was raped at a party and after reporting the incident to the Dean and Public Safety, she was told to overlook the actions and was dismissed.
"When I got to the meeting with the Dean and Public Safety they asked me what was I wearing, why did I separate from my friends, & why was I drinking under age," the account tweeted. "The Dean also said that Spelman & Morehouse are brother & sister so I should give them a pass. I never felt so worthless," she continued.
On Sept. 19, 2016, another page surfaced called @RapedintheAUC, which was inspired by @RapedatSpelman. The man behind the page identified himself as a freshman Morehouse student. He wrote that two female students, one from Spelman and another from Clark Atlanta, raped him.
"I went to report and a member of Morehouse Public Safety told me that I should be happy that two women are interested in me," the account tweeted. "As someone apart of the LGBTQIA community, I was not interested and very uncomfortable. This made me not want to report at all."
Students in the AUC say they feel unsafe
A year later, apparent distrust for reporting sexual assault to AUC authorities remains. A junior economics major at Spelman, who requested anonymity, told Mic she has been raped twice, both times by Morehouse students. She said she did not report the incidents because she felt discouraged by other students' experiences reporting rape on campus.
"It's more so blaming the victim than it is actually assisting me in my time of need," she said. "People offer you counseling, which is great. But there's nothing that has been done to make me feel like this won't happen again."
The student says the first incident occurred February 2016 in a dorm room of a Morehouse student. She was a freshman. Her alleged attacker was a popular student on campus, president of a well-known fraternity who was active in many campus organizations. She said she believed his status on campus would protect him if she spoke out against him. Three months later, she reached out to him hoping to make amends, but instead she was threatened.
"Around May, I reached out [to him] and I said, 'At this point I'm just trying to find peace within myself and I just need you to admit that you did it and just apologize,'" she said. Instead, her attacker's girlfriend, a Spelman student "who also has authority and that type of stature," reached out to try to intimidate her. "She came at me like, 'Oh. Well ... I know you and I don't want people to have to know these things about you. I know what really [happened].' ... Instead of being my Spelman sister, she was on the other side."
The second incident happened during homecoming week of her sophomore year. She said she was intoxicated at a party and a Morehouse student whom she knew offered to take her back to her place. They made it to her apartment, but never went inside; she was too inebriated to find her keys, she said, and she subsequently lost consciousness. "The following morning I woke up naked" in the male student's room, she said.
The student said she continues to see her attackers around campus.
Mathews also stills runs the risk of running into her perpetrator on campus. She spends most of her time on Spelman's campus to study and work so that she can avoid any potential run-ins with the person. But when she has to go to Clark Atlanta's campus, she feels anxiety.
"I definitely don't feel like if I'm in a situation of danger that I can depend on anyone to help me immediately, because I don't feel like I have very much support at my school," she said.
Mathews' complaints are being taken seriously by the federal government. The Department of Education is investigating Clark Atlanta University for not complying with the federal Title IX law, according to Mathews. The university's chief communications officer, Donna L. Brook, issued the following statement to Mic:
We cannot comment on matters pending litigation. Clark Atlanta University neither condones nor tolerates sexual assault or abuse, and has invested and continues to invest considerable time and energy into creating a safe environment that includes significant efforts toward advocating against and educating students about dating violence, sexual assault and abuse, and we support the ongoing efforts of all institutions toward this same aim. This includes encouraging students to report offenses and seek the help and counseling necessary through official, administrative channels.
"At no point was I presented with my Title IX rights," Mathews said. "At no point was my information forwarded to a Title IX coordinator, and it seems like at the time we may not have had a Title IX coordinator. And then the next year that I was reporting, we did. But even then, the Title IX coordinator didn't know about my reports until I went to her."
Under Title IX, "No person in the United States shall, on the basis of sex, be excluded from participation in, be denied the benefits of, or be subjected to discrimination under any education program or activity receiving federal financial assistance." If a school fails to address the complaints, it could lose federal funding.
The issue of how universities should handle sexual assault on campus continues to undergo reform. Under former President Barack Obama, schools were to take disciplinary action against an alleged attacker if there was a "preponderance of the evidence." This means a victim's claims would have to be "more likely true, than not true" for the accused to face accountability.
But in September, Education Secretary Betsy Devos changed these guidelines and gave colleges the option to take action upon a "clear and convincing evidence" standard. This means an alleged victim must prove their allegations are "substantially" more true than not true. Essentially, the victim will have to provide more evidence when bringing their case now, than under Obama's interpretation of Title IX.
With no uniform approach to handling these incidents, procedures used across universities will continue to vary from campus to campus. The recent events in the AUC are an example of what happens when students on college campuses feel the issue of rape culture is not being addressed in an effective manner — and they aren't accepting it.
"I really want us to be honest about what's happening in the AUC because something that is very sensationalized, [it] happens every year and people forget about it," Mathews said.
"But survivors are still fighting every single day, and we're really not seeing changes at all. Myself and some of my friends within the AUC, we've been in meetings with the administrations, we've protested, we've sent demands and still we're here, just saying 'Hey can you not violate my civil rights? Can you do more to be proactive in preventing rape and preventing sexual harassment? Can you follow the law?' We're asking our black schools not to violate our civil rights — and I mean, how incredibly sad is that."