A plurality of Republicans think Roy Moore should drop out of the Alabama senate race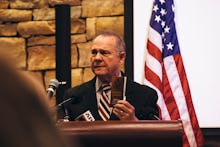 It's been five days since the Washington Post published a bombshell story alleging sexual misconduct on the part of Alabama Republican Senate nominee Roy Moore, and things aren't looking good for his bid to fill U.S. Attorney General Jeff Sessions' former seat.
A fifth woman came forward on Monday to accuse Moore of sexually assaulting her when she was 16 and he was in his thirties, raising the number of allegations of sexual misconduct to at least five. Now a new Morning Consult/Politico poll shows the vast majority of Americans — and a plurality of Republicans — think the controversial former chief justice of the Alabama state Supreme Court should drop out of the race.
According to the poll, 60% of registered voters surveyed said they, like Senate Majority Leader Mitch McConnell, believe the women's accusations against Moore; a whopping 60% of those surveyed — including 50% of Republicans — said they thought the beleaguered GOP nominee should drop out of the race before the special election; and an anemic 16% — including 26% of Republicans — thought that the candidate should continue in the race.
Though the poll was not restricted to Alabama voters, the only subset of the national electorate that will be able to vote in the upcoming special election, it nevertheless provides the public with a referendum on how the nation feels about the charges against Moore since the Post story. Since that story broke, Moore issued a half-hearted denial of the claims against him, lost his lead in the polls, drew the rebuke of his party and inspired other alleged victims of his to come forward with their stories.
On Monday evening, both the New Yorker and Al.com both published stories about the "open secret" of Roy Moore's behavior in his own town. Those stories both surfaced the claim that people who worked at the mall, a popular hangout for teens, knew to keep an eye out for him over rumors that he romantically pursued teenage girls.