3 takeaways from the Donald Trump Jr.-WikiLeaks revelations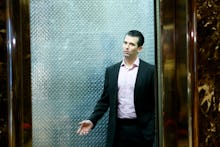 Donald Trump Jr. on Monday released an exchange of Twitter messages he had with WikiLeaks in 2016, apparently confirming a bombshell Atlantic report that he'd secretly corresponded with and acted on suggestions from the Russia-linked group headed by Julian Assange.
Trump Jr. sought to downplay the messages' significance, saying the notes were "selectively leaked" and pointing out that he only responded a "whopping" three times.
But the series of messages, along with actions taken by Trump Jr. and the campaign at the time of the correspondence, is a much bigger deal than the president's eldest son suggests.
Here's what you need to know about this major new development in the ongoing Russia saga.
Trump Jr. seems to have coordinated with WikiLeaks
The messages point to at least some degree of coordination between Trump Jr. and WikiLeaks.
After WikiLeaks informed him in September 2016 that an anti-Trump political action committee was about to launch a website linking then-candidate Donald Trump to Russia, Trump Jr. wrote back that he would "ask around" to get information about who was behind it.
According to the Atlantic, he followed up on that promise by speaking with top-level campaign staffers — at least two of whom still occupy senior White House positions.
On Oct. 3, 2016, Trump Jr. seemingly inquired about a coming "Wednesday leak" in October. Nine days later, on Oct. 12, WikiLeaks published leaked documents related to Democrat Hillary Clinton and urged Trump Jr. to promote the leak.
Just over an hour later, his father did just that.
Two days later, Trump Jr. did the same, tweeting the link WikiLeaks had provided.
This, of course, could be nothing more than coincidence. As Trump Jr. noted, he responded just three times to WikiLeaks' repeated messages.
But the previously undisclosed messages are part of a growing pattern of suspicious contacts for Trump Jr. and others in the president's orbit during the 2016 campaign that point to either cooperation or attempted cooperation with outside sources connected to Russia.
For example, Trump Jr. was similarly compelled to publicly release his shady correspondence with a Trump associate, Rob Goldstone, who brokered a meeting between the candidate's son and a Kremlin-connected lawyer he said had dirt on Clinton.
"This is obviously very high level and sensitive information but is part of Russia and its government's support for Mr. Trump," Goldstone wrote.
"If it's what you say I love it," Trump Jr. responded.
George Papadopoulos, a former foreign policy adviser to the Trump campaign, had also sought damaging information on Clinton from Russia-connected individuals and later pleaded guilty to lying to the FBI about his contacts; Carter Page, another foreign policy adviser to the campaign, met with high-ranking Kremlin officials in 2016 and informed a Trump campaign official of the meetings in an email, he confirmed earlier in November.
Cambridge Analytica CEO Alexander Nix, who had been Trump's data chief during the campaign, had reached out to Assange in 2016 in an effort to team up to obtain Clinton's missing 33,000 emails, according to an October report.
Trump Jr. wasn't the first to come under scrutiny for his ties to WikiLeaks, either. Roger Stone, the eccentric Trump ally, boasted during the campaign of his "back channel" access to Assange.
But Trump Jr.'s unearthed messages with WikiLeaks seem to provide the clearest example yet of a Trump team member coordinating with the organization. Assange, who released damaging leaks about Clinton and the Democratic National Committee during the 2016 campaign, has a long history of documented links to the Kremlin.
Senior Trump staff were at least somewhat aware
Damningly, several prominent members of Trump's campaign — including current White House staffers — were seemingly aware Trump Jr. had exchanged messages with WikiLeaks, according to the Atlantic.
After telling the organization he didn't know who was behind the anti-Trump PAC, he reportedly emailed Jared Kushner, Kellyanne Conway, Brad Pascale and Steve Bannon, all high-ranking officials on Trump's campaign.
Pascale, who served as the campaign's digital director, and Bannon, who served as Trump's chief strategist until August, no longer have official roles on Trump's team.
But Kushner, the president's son-in-law, remains a senior adviser in the White House, and Conway serves as counselor to the president and a frequent mouthpiece for him on television. That they all were apparently aware of Trump Jr.'s conversation with WikiLeaks further calls into question the White House position that it was not aware of any suspect activities.
The messaging back and forth also seems to undermine the claim of Vice President Mike Pence on Oct. 14, 2016, that the campaign had nothing to do with the organization.
"Nothing could be further from the truth," Pence said after being asked by Fox News if the campaign was in "cahoots" with the organization, the same day Trump Jr. promoted WikiLeaks in a tweet. "I think all of us have, you know, have had concerns about WikiLeaks over the years and it's just a reality of American life today, and of life in the wider world."
It also raises the possibility that Trump, who praised WikiLeaks at various times during his campaign, could have been aware of the apparent coordination — and possibly even participated in it.
Trump Jr. was stunningly naive
Whatever comes of this latest development, the debacle shows the green behind Trump Jr.'s ears.
In corresponding with WikiLeaks, he was communicating with an entity regarded by U.S. intelligence as a "non-state hostile intelligence service often abetted by state actors like Russia." That he did so via direct message on social media gives the impression of a brazenness similar to that displayed in his 2016 meeting with Natalia Veselnitskaya, a Russian lawyer who supposedly had dirt on Clinton.
One gets the sense Trump Jr. did not care what such contacts might look like or that they might be improper — or that he was not aware that they could be problematic.
Assange, for his part, appeared to claim Monday he was seeking to exploit that naivety in his messages to Trump Jr., tweeting that his organization can "beguile some people into transparency by convincing them that it is in their interest."