Jeff Sessions says he now remembers meeting with George Papadopoulos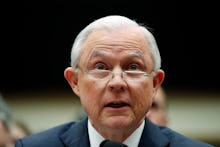 Attorney General Jeff Sessions said Tuesday at a hearing on Capitol Hill that he now remembers the Trump Tower meeting in which Trump campaign aide George Papadopoulos discussed meeting with Russians, and blamed his initial inability to recall the meeting on the "chaos" of the Trump campaign.
Sessions had previously told the Senate he never heard a Trump campaign staffer talk about meeting with Russians during the presidential election.
That has since been revealed to be false, as the existence of a March 2016 meeting at Trump Tower surfaced, in which Papadopoulos told Sessions and President Donald Trump himself that Papadopoulos was in contact with Russians.
Papadopoulos has since pleaded guilty to lying to federal investigators about his contacts with Russians during the campaign.
"I do now recall the March 2016 meeting at Trump Hotel that Mr. Papadopoulos attended, but I have no clear recollection of the details of what he said during that meeting," Sessions said Tuesday before the House Judiciary Committee. "After reading his account, and to the best of my recollection, I believe that I wanted to make clear to him that he was not authorized to represent the campaign with the Russian government, or any other foreign government for that matter."
Sessions went on to blame the fact that he didn't remember his interactions with Papadopoulos on the "chaos" of the Trump campaign.
"All of you have been in a campaign, but most of you have not participated in a presidential campaign," Sessions said in his prepared testimony. "And none of you had a part in the Trump campaign. It was a brilliant campaign in many ways, but it was a form of chaos every day from Day 1."
During the hearing, Sessions was also pressed on the report that he is considering appointing a special counsel to investigate Hillary Clinton and the Clinton Foundation.
Sessions has said previously that he would recuse himself from any investigations into Clinton. But Democrats are concerned that Sessions is trying to get back in Trump's good graces by following Trump's orders that the Department of Justice investigate Clinton and Democrats.
Rep. John Conyers (D-Mich.) asked Sessions whether "Is it common for the leader of the country to order the criminal justice system to retaliate against his political opponents?"
Sessions didn't fully answer the question, but said, "The Department of Justice can never be used to retaliate politically against opponents, that would be wrong."
Nov. 14, 2017 11:33 a.m.: This article has been updated.