Speier: 2 current congressmen have engaged in sexual harassment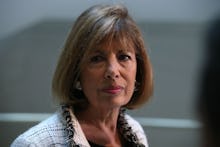 Two men currently serving in the United States House of Representatives have engaged in sexual harassment, Rep. Jackie Speier (D-Calif.) told a panel Tuesday.
She did not name the two congressmen, but she said one was a Republican and one was a Democrat.
Speier, who has spoken out about her own experience as a victim of sexual misconduct on Capitol Hill and invited others on the Beltway to do the same, said she had been told by current and former congressional staffers of harassment, groping and unwanted advances — sometimes on the House floor.
"Women and men have trusted me with their stories," Speier said. "All they asked in return was that we fix our abusive system and hold the perpetrators accountable"
The testimony came during a House Administration Committee hearing on sexual abuse on Capitol Hill.
In October, Speier shared a #MeToo story of sexual harassment, in which she said that as a congressional staffer, a chief of staff "held [her] face, kissed [her] and stuck his tongue in [her] mouth."
"Many of us in Congress know what it's like," she said in a video posted to Twitter. "Because Congress has been a breeding ground for a hostile work environment for far too long."
In a video, she urged fellow lawmakers and congressional staff to share their own stories of being sexually harassed or assaulted.
"It's time to throw back the curtain on the repulsive behavior that until now has thrived in the dark without consequences," she said.
In November, four current or former female lawmakers alleged that they have been sexually harassed by male colleagues — including on the House floor.
Former California Sen. Barbara Boxer told the Associated Press that a male colleague in the 1980s made sexually charged comments during a hearing, during which the man said he wanted to "associate with the gentle lady" — a suggestive play on "traditional congressional parlance," according to the AP.
Rep. Linda Sanchez (D-Calif.) told the publication that she had been outright propositioned by a senior lawmaker who was married.
Speier said Tuesday that Congress should require lawmakers and staff to go through mandatory sexual harassment training, institute a "climate survey" every two years and "reform the broken dispute resolution process."
Rep. Greg Harper (R-Miss.), the chairman of the panel, said in his opening statement that congress "must hold ourselves to a higher standard" and agreed that mandatory training was necessary.
Earlier in the hearing Tuesday, Rep. Barbara Comstock (R-Va.) said in a statement she knew of a man currently serving in the House who had asked a young female staffer to bring documents to his home, greeted her in a towel and exposed himself to her.
She left the lawmaker's house and quit her job, Comstock said.
"It is time to say, 'No more,'" she said.