Trump refuses to meet with American Nobel Prize winners, breaking with tradition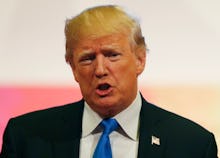 Get lost, nerds.
That's the message that the Trump administration sent to this year's American Nobel Prize recipients when it broke with years of tradition by declining to meet with them ahead of the Nobel Prize award ceremony in Sweden.
Each year since 2001, American Nobel Prize recipients have been invited to the White House to meet with either the president or the vice president to celebrate their achievements.
But this year, the Trump administration will not be honoring this year's winners, citing the president's trip to Asia and Hawaii, which came to a close this week.
According to STAT News, at least two American Nobel recipients were relieved by the decision. Biophysicist Joachim Frank told STAT that he would not set foot in the White House so long as Trump or Pence occupy the office.
This is not the first time the Trump administration has declined to meet with celebrated Americans whose achievements would normally warrant an invitation to the White House. In September, Trump withdrew an invitation to NBA MVP Stephen Curry as protests of the president and his policy agenda were beginning to heat up in the world of professional sports.
"Going to the White House is considered a great honor for a championship team." Trump tweeted. "Stephen Curry is hesitating, therefore invitation is withdrawn!"
The decision not to invite America's 2017 Nobel Prize winners also follows several controversial proposals by the Trump administration to cut programs for science and the arts.
Trump's decision may also have to do with Trump's resentment of the fact that the Nobel Committee chose to honor his predecessor Barack Obama after his historic election victory in 2008.
"Our NOBEL PRIZE FOR PEACE president said 'I'm really good at killing people' according to just out book Double Down." Trump tweeted in 2013. "Can Oslo retract prize?"
In addition to not hosting the new class of Nobel laureates, Trump will also not be attending the Nobel Prize Award ceremony in Sweden, despite the fact that the international event is usually scheduled specifically to accommodate the president of the United States.