Sessions, Ryan join McConnell in abandoning Roy Moore amid sexual misconduct allegations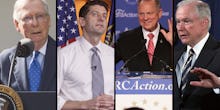 The two Republican leaders in Congress, joined by the former Republican Alabama senator who now serves as the nation's top law enforcement official, have all turned their backs on Alabama Republican Senate nominee Roy Moore amid a firestorm of sexual misconduct accusations against him.
As of Tuesday, U.S. Attorney General Jeff Sessions, House Speaker Paul Ryan and Senate Majority Leader Mitch McConnell had all affirmed their belief in the credulity of the claims against the controversial Moore, with Ryan and McConnell agreeing that the beleaguered erstwhile frontrunner for Sessions' former seat should step aside.
"He should step aside," Ryan said of Moore on Tuesday, according to the Washington Post. "Number one, these allegations are credible. Number two, if he cares about the values and people he claims to care about, then he should step aside."
"I have no reason to doubt the women [accusing him]," Sessions, the former Alabama senator, said at an appearance before the House Judiciary Committee on Tuesday. But when the line of questioning turned to whether the beleaguered Moore should drop out of the race, Sessions seemed to cite ethics concerns that prevent him, as leader of the Department of Justice, from weighing in on the election.
"I believe the women," McConnell told reporters Monday at a presser on tax reform. The GOP Senate leader said the party was exploring other options to replace him for the Alabama seat, including potentially mounting a write-in campaign for another candidate.
The top GOP members' move to disavow Moore comes after five women accused the Senate hopeful of sexual misconduct when they were teens and Moore was in his thirties. Of those five women, two accused Moore of sexual assault. The first four women's claims were brought to the public by the Washington Post on Thursday; the following Monday, noted civil rights attorney Gloria Allred came forward with the fifth accuser's emotional statement.
"Mr. Moore reached over and began groping me, putting his hands on my breast," Beverly Young Nelson said Monday of Moore. "I tried to open my car door to leave, but he reached over and locked it so I could not get out. I tried fighting him off ... but instead of stopping, he began squeezing my neck, attempting to force my head onto his crotch ... I was terrified."
A Politico/Morning Consult poll showed most registered voters think Moore should drop out of the race. But if a defiant Monday tweet from the candidate is any indication, the electorate shouldn't hold its breath.