Jon Stewart breaks his silence on Louis CK allegations: "You feel anger at what he did to people."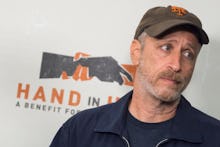 In a Tuesday morning appearance on NBC's Today, comedian and former late-night host Jon Stewart spoke about allegations of sexual misconduct against his friend and fellow comedian Louis C.K., saying that he was "stunned" by the allegations and C.K.'s admission that they were true.
"You give your friends the benefit of the doubt," Stewart told Today's Matt Lauer and Savannah Guthrie.
I try to think of it in terms of, you know, I've had friends who've had compulsions and who have done things — gambling or drinking or drugs — and we've lost some of them. Some of them have died. You always find yourself back to a moment of, 'Did I miss something? Could I have done more?' ... In this situation, I think, we all could have.
A Thursday report in the New York Times detailed explicit allegations of sexual misconduct made against C.K. by five women. The Times report seemed to confirm years of industry rumors about C.K.'s behavior with women. In a statement released on Friday, C.K. said the stories told to the Times "are true" and that he was "remorseful of my actions."
Stewart was appearing on Today on Tuesday to promote his "Night of Too Many Stars: America Unites for Autism Programs," a comedy special and fundraiser that was originally slated to include C.K. as a performer. Following the Times report, HBO announced that C.K. would no "no longer be participating" in the benefit.
Speaking about C.K., Stewart told Today, "You feel anger at what he did to people," adding, "Look, comedy on its best day is not a great environment for women. I think it's gotten better over the years, but certainly when we started 30 years ago, it was really difficult."
Stewart called the problem of sexual harassment in his industry "endemic," and said, "You get mad at yourself too, for laughing it off or for thinking, 'That didn't happen.'"
Stewart also acknowledged a moment that had recirculated on social media following the Times report about C.K., in which an audience member at a podcast-taping had asked him about the rumors of C.K.'s behavior.
"A year ago, I was doing a podcast with David Axelrod and a man in the audience asked me about it," Stewart said on Tuesday.
"I hadn't heard, at that point, of any of it ... He said, 'What do you think of the allegations against Louis C.K., and my first response was, 'What?' and then joke, joke. And as he kept going, I was, 'Look, I know this is very serious. I know Louie. He's always been a gentleman' — to me, which, again, it speaks to the blindness a man has."