George Takei's Facebook empire strains under sexual harassment allegations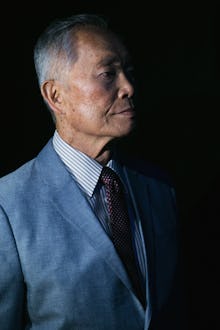 Cracks are beginning to appear in George Takei's lucrative social media influencing platform as publishers distance themselves from the former Star Trek star and current social media influencer following allegations of sexual assault.
As of Tuesday, at least six publishers, including Mic, have ended paid promotion partnerships that once had their articles and videos shared on Takei's social media platforms.
On Friday, model Scott Brunton said in an interview with the Hollywood Reporter that in 1981, Takei groped him while he was unconscious. Takei, now 80, has denied the assault ever occurred, saying the allegations were "personally painful." After an old recording of Takei joking with Howard Stern about grabbing men to "persuade" them into sex surfaced, Takei apologized for the remarks on Facebook, saying he shouldn't have joked about such a serious matter.
As of Tuesday, Slate, Upworthy, GOOD, Futurism, Refinery29 and Mic have made arrangements to no longer have their articles and videos shared on Takei's Facebook page, the companies confirmed.
Many publishers have dropped Takei.
Publishers that rely on social media as a distribution tool might pay to have their articles and videos shared by well-known figures or Facebook pages that have large, loyal followings. Publishers usually make arrangements with companies that coordinate across so-called "influencer networks" to get content shared.
Slate, which works with an influencer network that includes Takei, on Friday requested that its articles no longer appear on his social media pages, Bill Carey, Slate's director of strategy and audience development, said.
"In light of the allegations, we asked for Takei to be excluded from pages our stories can run on," Carey said in a statement to Mic on Monday night.
Mic similarly uses influencer networks to share certain videos and articles, and it has also requested that its content no longer be shared on Takei's Facebook page. That suspension was effective as of Monday afternoon, according to Rameez Tase, Mic's vice president of audience and analytics.
The science news site Futurism has also ended its relationship with Takei's social media channels, Futurism editor-in-chief Jolene Creighton said.
"Futurism holds itself and all its partners to the highest ethical standards, and we were unsettled to learn about the recent allegations against George Takei," Creighton said Tuesday. "We are no longer pursuing a relationship with him or his distribution channels."
After Mic reached out to ask about Upworthy and GOOD's use of Takei's Facebook page to promote their content, the sites, which are part of the same company, announced Tuesday they would no longer have their content promoted on Takei's Facebook page.
A spokesperson for Refinery29 confirmed to Mic Tuesday night that the publication had suspended its practice of promoting its content on Takei's Facebook page in light of the allegations.
Takei's influence was astronomical.
Takei is something of a Facebook mega-influencer, with more than 10.4 million likes on his Facebook page and more than 9.5 million Facebook followers. Takei made a name for himself on the platform by regularly posting jokes and puns on his page, advocating for LGBTQ issues and by sharing articles and videos with decidedly liberal sensibilities. His sense of humor and his political leanings have made him a darling of more liberal media sites and the scorn of conservative outlets for years.
In 2012, the Daily Dot named Takei the No. 1 most influential person on Facebook, and the following year, he was awarded a distinguished achievement in internet culture award at the Shorty Awards, an annual social media awards show.
In more recent years, Takei has used his fan base as a lucrative business opportunity, offering publishers access to his social media fan base for a fee. Publishers pay for their content to be shared by people like Takei, and in exchange have their articles and videos shared. On Takei's page, those posts are often accompanied with jokes, puns or other quips.
Takei is one of many celebrities and influencers who are part of influencer networks. But Takei was one of the early trailblazers of the emerging model. Takei relies on the help of the company the Social Edge to promote certain publishers' content for a fee, and the Social Edge uses Takei's success as a model. The audience from Takei's page remains a major lever for the Social Edge.
The Social Edge founder and COO Jay Kuo wrote in a Medium post in May that one publisher working with Takei generally yields more than 2 million in Facebook "reach" per post.
A request for comment to the Social Edge was not returned.
Over the past several weeks, Takei's Facebook page has shared articles and videos from more than 40 publishers, including the New York Post, Refinery29, NowThis News, ATTN, Bored Panda and Knowable. Articles and videos from such Facebook-friendly publishers are posted to Takei's Facebook page nearly every waking hour, and partnerships with other media companies are also evident on his other Facebook page, George Takei Presents, which shares mostly videos, including from Takei's YouTube channel. (Posts to that page, which has more than 600,000 likes, are often shared to Takei's general Facebook page.)
In the 12 hours leading up to noon on Tuesday, Takei's Facebook page has shared articles from Refinery29, BoredPanda, Second Nexus, My Modern Met, Knowable, Explorist (which is part of Futurism), Hometalk, PizzaBottle, Distractify, Shareably, Factinate, the Way We Met, Nameless and Comic Sands.
Mic has reached out to many of the publishers that share content on Takei's Facebook page, including the New York Post, ATTN, Out, Inquisitr, the Way We Met, Group Nine Media (the parent company of Thrillist and NowThis), and Gateway Blend (the parent company of the Facebook publishers Knowable and Tickld). This story will be updated if and when those publishers respond.
Correction: Nov. 16, 2017
A spokesperson for Mic said in a statement that the numbers previously provided for the article "were illustrative and intended only to explain the influencer business model, but were not actual or accurate reach and rates." Mic said it could not provide new information about the average audience for Mic posts on Takei's Facebook page or the rate Mic paid.