Danielle Brooks on her first fashion collection and what plus-size women need from fashion now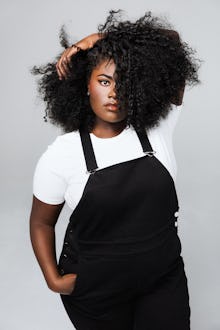 Danielle Brooks is now part of that list of famous women — along with Melissa McCarthy, Rebel Wilson, Ashley Graham and Gabi Gregg — who are not only sick of what plus-size fashion currently has to offer, but are doing something about the fashion offered.
For Brooks, that "something" is designing a few select pieces of her own for the plus-size brand Universal Standard, which specializes in modern, chic, versatile pieces in sizes 10 to 28. After years of being incredibly outspoken about what it's like to be a plus-size woman who wants to look fabulous and fashionable, it's a perfect fit.
"I never wanted to rush the process and say, 'Oh, let me jump on the first bandwagon and see where it goes,'" Brooks said in an interview on Tuesday, noting that she's had several brands in the past approach her about designing a capsule collection for them. "This is my first time stepping into this world, and I have a great respect for people who do this for a living. To now be designing clothes, I'm learning so much. [Universal Standard co-founder] Alex [Waldman] is always teaching me something, from the different fabrics and how they work on a body to finding things that I like."
The resulting collection — which is called "Tria" because it's three pieces — comprises a shirt dress, a sweater dress and a pair of overalls, in shades like aubergine, charcoal and pink.
According to Waldman, she was initially drawn to Brooks as the brand's first celebrity collaborator because she could sense Brooks' own passion for plus-size fashion.
"All we knew was that this was a person who we knew we would love to have design some things for our brand," Waldman said in an interview. "She's so passionate, and so considerate. When we finally met her, she's just the most vibrant and wonderful and warm and generous person. We wanted her for who she was as a public persona, but when we got to know her as a private person, we fell in love."
Given that this is Brooks' first foray as a fashion designer, she of course has a vision for who her customer is. And who are they, exactly? Well, women like her first, but then pretty much everyone else, regardless of size and even gender.
"Everyone, that's who it's really for. I want every woman to wear these clothes. And if men want to jump in these overalls, they can jump in these overalls," Brooks said. "I think that was my main goal. But it did start with me. The question posed was like, 'What do I wanna be seen in?' I remember saying to Alex, 'I want something that's comfortable. I want something that is so universal that I can go from night to day, or day to night.'"
This kind of mentality fits right into Universal Standard's set aesthetic of simple yet elevated high-quality garments. Brooks wasn't trying to design throwaway fast-fashion, that's for sure.
"There's like these one-hit wonder kind of clothes, where you buy this outfit for $25, $30 and then — this happened to me the other day — it freaking rips," Brooks said. "That's not what this is. These are quality pieces, timeless, classic pieces that, when you look back 20 years from now and you see a picture of yourself in Universal Standard, you're gonna be like, 'I'm glad I chose that outfit. I don't look crazy.'"
In designing such a streamlined collection, Brooks is sending a message to the fashion industry about the one thing they still don't quite get about plus-size women: All they want is more.
"We want more," Brooks said. "Fashion is so tied into who we are as people, and our personalities. We want to be able to express ourselves, so the more options that we have, the easier it is for us to walk down the street with our head ups feeling like powerful women. Just give us more options."